'Ben'eficial to America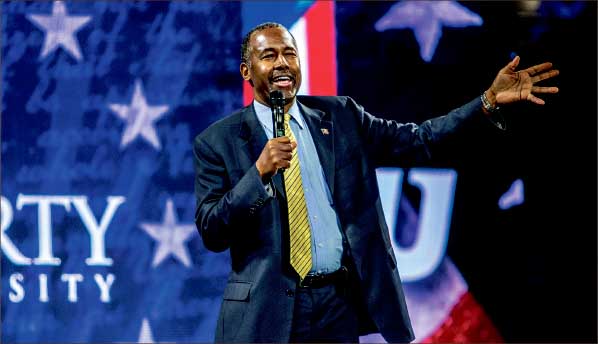 Republican presidential candidate Ben Carson visits Liberty University
The words "Win Ben, Win" were written across banners that students unrolled as they clapped and cheered for Republican presidential candidate Dr. Ben Carson Wednesday, Nov. 11.
Students and guests trickled into the Vines Center after passing through an array of metal detectors and security screenings until the Vines Center reached maximum capacity.
Liberty Campus Band started the service by playing two songs with Thomas Road Worship Pastor Charles Billingsley. Carson was welcomed onto the Convocation stage during the music and sang along with the band.
Senior Vice President for Spiritual Development David Nasser opened the Convocation in prayer, thanking God for Liberty and drawing focus to God.
Convocation continued when Nasser invited President Jerry Falwell to speak. Falwell took the time he had at the podium to thank both Carson and George Rogers, former chief financial officer at Liberty and World War II veteran.
"I am so honored and privileged to introduce two heroes to Liberty University today," Falwell said.
He said Rogers survived the Bataan Death March and received a Purple Heart for his service. Falwell said Rogers, who now lives in Lynchburg, does not ask to come and meet distinguished speakers on campus very often, but he highly respects and supports Carson and requested to meet him.
The crowd in the Vines Center stood to their feet and clapped for Rogers to thank him for his service. Rogers took the microphone and said he wants Carson to be next in the White House.
"It is certainly a pleasure," Rogers said. "There are enough votes in this (arena) to put Dr. Carson in the White House. That is my wish."
Falwell then introduced Carson to the podium to speak.
Carson started by introducing his wife who received applause from the audience. He took time to address the student body and tell them how important they are.
"It's been a few years since I've been at Liberty, but we talk about Liberty all the time because that's what (the school) represents — liberty (and) freedom from the snares of the world," Carson said. "(Liberty has) the right kind of teaching and the right kind of values for the young people who will become the leaders of our nation. You are such a vital part of the future of this nation."
Carson then spoke about how he is grateful for all those who have served in the U.S. military and asked all veterans in the room to stand so he could thank them because "freedom is not free."
"(They made) such a sacrifice, and (it) is something we all must begin to think about in our lives," Carson said. "There is nothing that is really free and particularly the concept of freedom. We should be so delighted that we live in America. Is there a better place to live than America? I don't think so."
Carson said he has traveled to many other countries but he always loved coming back to the U.S. because he believes it is the most exceptional nation the world has ever seen.
America is known for dreams, according to Carson, and he said he always dreamed of being a doctor. However, Carson said he was not a good student when he was younger, and no one thought he was very smart. He said there was always one person who never thought that he was dumb, and that was his mother.
Carson said his mother made him and his brother read books from the library and write book reports. His mother would make marks on their papers even though she could not read.
"As I read those books, incredible things began to happen," Carson said. "I began to realize, particularly as I read about people of accomplishment in all kinds of fields, that the person who has the most to do with what happens to you in life is you. It's not somebody else. It's not the environment. It's you. And that was incredibly empowering to me."
Carson said he stopped thinking about what could not be done and started thinking more about what could be done. When he did poorly on his first set of exams in medical school, he was told he was not cut to be a doctor. Carson said he was devastated at first, but he decided to spend more time reading. Medical school became easier for him.
Carson changed gears and spoke about how he believes God is a creator and has created the whole earth. He spoke about not being critical of different views of creation and evolution and that everyone is allowed to believe what they believe.
"It is also very vital that we begin to think about each other, that we begin to think about those who come behind us," Carson said.
The fiscal gap, according to Carson, is being handled irresponsibly and is over $200 trillion. Carson said it will be hard for the next generation to get the country in order, but there is time, but not much time, before it collapses.
Carson spoke about the Constitution and how it gives rights that God the creator gave, but people are starting to push God out of the country.
"Our nation's survival as a pinnacle nation in the world … is rooted in our values system — values and principals of a great nation," Carson said. "The real question is, are we willing to stand up for those values and principles, or will we allow ourselves to be intimidated by the secular progressives?"
Applause filled the arena as Carson ended his speech by saying it is crucial for everyone to stand up for their beliefs.
Nasser sat down with Carson for a Q&A with questions provided by members from Liberty's student government. Questions included topics such as traditional marriage, a proposed 10 percent flat tax and the story of how Carson decided to run as a residential candidate.
The session ended as Nasser prayed for Carson and for the nation, then Falwell presented Carson with his own Liberty football jersey as a parting gift.
FOLEY is the asst. news editor.