You got to Lovell it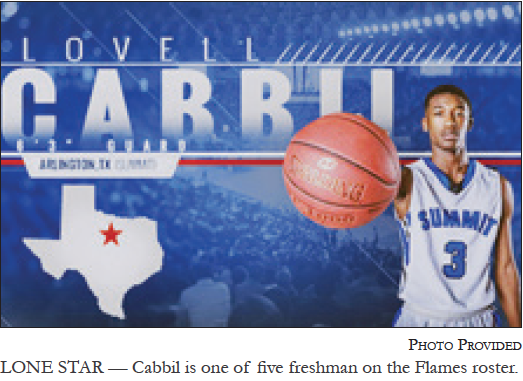 True freshman point guard Lovell Cabbil poised for bright future with the Flames
The process of recruiting is vital to building any quality collegiate athletic program. Coaches all across the country go head-to-head for the best high school players they can find for their respective teams.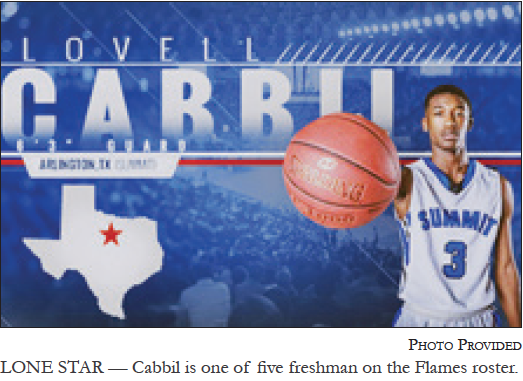 When Ritchie McKay was named the new head coach of the Liberty Flames men's basketball team, he had an idea of which high school players he wanted to come play for his team.
The first recruit McKay visited as head coach was Lovell Cabbil, now a freshman guard for the Flames.
For the Arlington, Texas native, being McKay's first target was an honor.
"It means a lot to me," Cabbil said. "Right when he got the job, I was the first one he wanted to recruit. It shows he believes in me and thinks that I can do good things."
The quiet, humble Cabbil also made his mark in high school.
According to libertyflames.com, Cabbil is the all-time leading scorer at Mansfield Summit High School, and he was one of just two four-year letter winners in the history of the school.
He averaged 21.4 points, 4.6 assists and 3.7 steals per game his senior year, while shooting 41 percent from beyond the arc and 81 percent from the free-throw line.
Cabbil began learning and playing the game of basketball at the age of six.
"My dad played basketball, so I grew up learning from him," Cabbil said.
When he is not playing basketball, Cabbil is no different than any other college student. Off the court, you may find him in his room eating a Reese's and watching his favorite movie "The Hunger Games." You could also find him playing video games with his teammates in the newly-renovated team locker room.
Cabbil made it clear to everyone following his recruitment that he wanted to play for McKay when he signed with the Flames April 21.
"He has a real good approach," Cabbil said. "I feel like he knows how to handle difficult situations. If you are missing shots, he is going to tell you to keep shooting. If you mess up, he is going to tell you to do better next time. He is never down on you. (He is) just full (of) encouragement all day."
Cabbil's relatives are big fans of McKay as well.
"My family loves him," Cabbil said. "After he came down to Texas, they fell in love with him. They like his personality. They think he is a good man."
Cabbil knows that lessons from the basketball court translate over into everyday life.
"It helps you get some responsibility," Cabbil said. "You are responsible to do your job on the court. If you do not do your job, it will affect the whole team."
At six-foot-three-inches, 155 pounds, Cabbil believes his style of play is more fast-paced than that of other players. His 3-point shot is something else that he feels the Flames can use this season.
McKay believes Cabbil could provide immediate help to the Flames' backcourt this upcoming season.
"We are very excited about Lovell signing with our family," McKay told libertyflames.com. "I really think he (has) a great bright future as a Liberty Flame. He combines the ability to score in a variety of ways with quickness and the athleticism to be an excellent defender. In addition to his on-court abilities, he is a terrific person."
Cabbil and the rest of the Flames open their season Nov. 13 when they take on the Covenant College Scotts at 7 p.m. in the Vines Center.
Dillard is a sports reporter.