Meeting student needs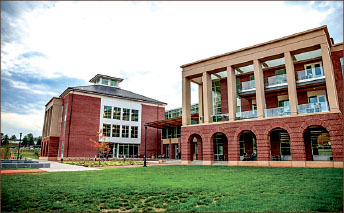 Jerry Falwell Library is recognized on national scale for its innovative design
Liberty University's Jerry Falwell Library was recognized in the 2015 Library Design Showcase, American Libraries' annual celebration of new library structures, for its innovative architectural design.
American Libraries is a professionally renowned publication sponsored by the American Library Association and is distributed to 65,000 individuals and organizations worldwide. The publication listed Liberty's library along with John Hay Library at Brown University, Boston Public University, and Syracuse University's College of Law Library.
"According to (an article authored by Phil Morehart in) the publication … the winners are 'shining examples of innovative architecture that address user needs in unique, interesting, and effective ways,'" Angela Rice, dean of the Jerry Falwell Library, said.
The publication also commended the Jerry Falwell Library for its flexible work and socialization spaces, spacious learning commons, personal study zones and more than 30 group study rooms.
Senior clinical health promotions student Aaron Litevich said he has benefited greatly from the group study rooms.
"Group study (rooms) … provide an isolated environment where it makes it easier to focus," Litevich said.
Liberty invested approximately $50 million on the 170,000-square-foot library that opened in the fall of 2014. The new library is equipped with a high-tech book retrieval system called the Automated Storage and Retrieval System (ASRS). The ASRS is capable of retrieving books in a matter of minutes and can have them available to the students in short order rather than the student having to wait days for the item to be pulled from off-site storage. The robotic system, which can stock and retrieve 420,000 items, was developed by Muratec and is the company's first ASRS installation for a library.
The Jerry Falwell Library also features a 24 feet wide and 11 feet high media wall with Microsoft Kinect movement recognition technology, Perceptive Pixel tables (oversized tablets), interactive information kiosks, and technology commons equipped with computers that are located throughout the building.
"The library was designed with the customer in mind," Rice said. "The ASRS was created so that more space could be dedicated to students and faculty. With a variety of spaces ranging from deep quiet to collaborative, the customer can find a quiet spot for study or enjoy the open areas to meet friends. Technologies for active learning are available as well as a traditional reading room where quiet space is enjoyed."
Freshman elementary education and special education student Elisa Geer said she enjoys the library environment when studying.
"The natural lighting (with all the windows) really helps me focus on my work," Geer said.
According to Rice, the library further improves Liberty students' on-campus experiences.
"Students value the group study rooms, writable walls, access to electrical outlets all throughout the building, and the different types of spaces for different levels of study," Rice said. "The majority of feedback was that they appreciated having a place where they can meet friends, study in groups, grab a bite to eat and still be nearby their next class."
The library plays a significant role in fulfilling the university's mission of helping students further their research in an environment designed to facilitate individual and group study.
"It is an honor for the Jerry Falwell Library to be selected as one of the featured buildings," Rice said. "The library was designed to be both inspirational and transformational. Through the variety of study areas, students and faculty have many choices of spaces to collaborate, discover, and create knowledge."
PHUONG is a news reporter.