Liberty Way revised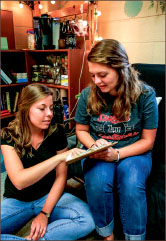 Changes in wording have been made to the university's Student Honor Code
As students returned to campus to begin the 2015-2016 school year, discussion immediately began about the alterations to the Liberty Way, Liberty University's Student Honor Code.
Dr. Mark Hine, senior vice president for Student Affairs, and Robert Mullen, dean of students, said there was one main reason for the adjustments in the wording of the document that every student agrees to abide by when attending the university.
"There are some things that we took out of the list because where we are trying to go with the Liberty Way is more of a principled approach to life such that you don't need a whole big … list of things that say do this and don't do this," Hine said.
The changes in wording include a new entertainment policy in which students are instructed to use caution when watching movie content rated R or PG-13 and video game content rated M.
In terms of relationships, the revised Liberty Way encourages students to make wise decisions on how to conduct themselves. According to the document, students "are encouraged to know and abide by common sense guidelines to avoid the appearance of impropriety." Hine said there is a standard of appropriateness against which couples need to evaluate their actions.
In addition, the wording for the dress code sections for females was adjusted.
Mullen said the dress code was simplified in terms of "modesty, appropriateness and neatness." Different schools within the university are still allowed to implement their own dress code.
Hine and Mullen said the goal of changes in the Liberty Way is to encourage discussion between students.
"The Liberty Way is an old document that has been updated from time to time," Mullen said. "The way it has been enforced and applied has changed over the years, but what was written hasn't changed necessarily in style and approach. So our student leadership is being taught to have conversations about issues …"
Mullen emphasized that some of the rules in the Liberty Way are intentionally ambiguous so that students can have conversations to help each other make decisions.
"We still want there to be engagement and conversation if someone is wearing something that is not appropriate," Hine said. "If an RA goes in a room and sees (students) watching an inappropriate movie, (the) goal is for conversations to happen. …"
Mullen said the plan is also to empower student leaders to have the necessary conversations that induce life transformation.
"We wanted to put the tools into the hands of student leadership so (those students) wouldn't come across like cops but more like coaches," Mullen said. " … They (can) help students walk through (and) think through (making) good decisions. If (students) happen to make a really bad decision, there is still enough there to help guide them back into a safe place for them during that time. It's putting into the hands of student leadership the tools they need to do what they already want to do."
Hine and Mullen said the adjustments to the Liberty Way wording are also to help students grow to become young adults who can make godly decisions in the future.
"I think what we are trying to do is equip students for the next step," Hine said. "If there's this great big, long list and all (students) know is if (they) follow this list (they) don't get in trouble, when (they) get out in life (there are not) a lot of lists. … But, there are a lot of decisions that will be made that there's no list that they can refer to."
Mullen reiterated Hine's sentiments.
"Students can begin to make these decisions," Mullen said. "If we are just telling them do A, B, C and don't do X, Y, Z, they're not going to learn to think when they leave here."
Even though the wording of the Liberty Way may have been adjusted for the upcoming school year, Hine and Mullen said Liberty is not changing its goal to train Champions for Christ.
"We went at (the changes) with the approach that we wanted to stay mission true," Hine said. "We did not want to touch in any way things that make Liberty distinct because Liberty is a special place. It is a life-changing place. If anything, we are taking it in a better direction to do what we really want to accomplish."
RODRIGUEZ is the news editor.
Note from Dr. Mark Hine, senior vice president for Student Affairs:
Students returning to campus this fall may have noticed several changes to Liberty's Honor Code, the Liberty Way.
This summer we carefully studied the Liberty Way, listened to feedback and input from students and observed how enforcement was actually taking place. We found that both our students and student leadership were desiring an Honor Code based more upon a personal discipleship relationship than on rote rule enforcement. That is the same approach Jesus took with his students.
As a result, several areas of the Honor Code were revised and updated to focus more upon principles than hard and fast rules. The goal of the revision was not to lower standards, but to elevate our students to a position where they can learn to apply principles to particular life situations and make wise decisions.
While there are still certain, clear-cut rules and community expectations, we believe that the process of our students learning to apply life principles will effectively equip them for future life decisions. You may notice that some of the revisions leave open room for discussion.
This was intentional and designed for students and student leadership to enter into discussions about how to make good decisions.
Liberty's Office of Student Conduct is also available to clarify any issue that may be unclear.
Additional revisions and clarifications are under consideration, and the administration welcomes feedback from students, faculty and staff.