Jump serve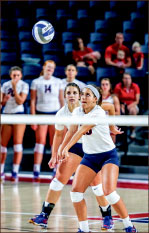 Lady Flames look to build
The Lady Flames volleyball team looks to add another chapter of success to its program history during the 2015 season after early exits in the Big South championship tournament in the past two seasons.
Head coach Shane Pinder, the all-time winningest coach in Lady Flames volleyball history, heads into his 12th season at Liberty with a career record of 208-149 overall and 115-43 in Big South Conference games, according to libertyflames.com.
Pinder believes his team has the talent to achieve its ultimate goal, win the Big South Championship this season.
"Part of our culture is always to put ourselves into a position to win a championship," Pinder said. "We want to be in a position at the end of the year to have a shot to win the Big South Championship and get to the NCAA tournament."
While Pinder believes his team has what it takes to be champions, he says there is so much more than that.
"I think probably outside of that is that we play volleyball in a way that honors and glorifies the Lord," Pinder said.
With only six upperclassmen on the roster, some of the younger players will be expected to contribute on the court.
One of those underclassmen is sophomore Hannah Weidner, a member of the 2014 Big South All-Conference second team and All-Freshman team. Weidner echoed her head coach when discussing the goals for the upcoming season.
"Our mission statement for Liberty volleyball is to glorify God," Weidner said. "That's honestly our main goal."
Although the Lady Flames are young, they return the two most experienced players at key positions, Jade Vorster at middle blocker and Caroline Douglas at outside hitter, both redshirt-seniors.
"We (have) some older players in key positions," Pinder said. "That's going to help us in the attacking positions."
Vorster came to Liberty last season after transferring from the University of Hawaii. She earned Big South All-Conference second team honors in her first season with the Lady Flames.
"She's got great size and length," Pinder said. "She understands the middle position. She was one of the top blockers in the league last year. In fact, she broke a (rally scoring) blocking record in the program last year (32 solo blocks)."
Douglas has the most experience with the Lady Flames, but she has had some issues staying healthy throughout her career.
"Caroline has had great success here," Pinder said. "The unfortunate part for her has been her health, … but the years she is healthy, … she can get after it. She's one of the leading attackers in the league when she's healthy."
Through all her years with the Lady Flames, Douglas believes there's something different about this team that sticks out.
"Every year we have great chemistry," Douglas said. "But there is just something special about this team. It's something you really can't put your finger on. It's awesome because all of these girls have such great relationships with God and that makes our relationships with each other so much easier."
Douglas believes that regardless of the outcome of the season, she wants the team to have a positive impact on the other teams they play and shine a light for Christ.
The Lady Flames kicked off the season by winning the Liberty Invitational; recording wins over UNCG, Fairleigh Dickinson and Hampton.
Liberty will head to Boone, North Carolina, Sept. 11-12 for the Appalachian State Invitational.
Dillard is a sports reporter.