Cooking with passion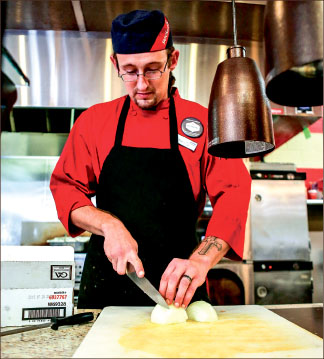 Steven Monetti views his job at the Dining Hall as an opportunity to serve
A chef with thin-rimmed glasses and a loose smile prepares food behind a menu that offers a choice between Cuban rice salad and honey barbecue sandwiches. He grins, and hands a plate of food to a student on the other side of the counter. His nametag reads #CHEFSTEVE.
Steven Monetti grew up learning how to cook. Monetti, who goes by Chef Steve, describes his love for food as an "all-consuming passion." He was homeschooled, which allowed him to spend a lot of time practicing his trade, and grew up with a grandmother who thought the best way to babysit was to teach him how to cook.
Since then, Monetti has built his resume in the food service industry. From manager at a Cici's Pizza, to U.S. Army chef, Monetti now works at the Training Table at Liberty's own Reber-Thomas Dining Hall.
"Quite honestly, it's the best job I've ever had," Monetti said talking about his job at the Reber-Thomas Dining Hall. "And it's all because of the students."
After being hired in the beginning of the 2015 spring semester at Liberty, Monetti said he was awestruck with the gratitude of Liberty students. Acts of kindness, in forms of prayer and thank you cards, have brought Monetti to tears. He said he has since come know about 300 students on a first-name basis.
"Once (the students) know that I put a little more effort into the food, they want to talk to me," Monetti said. "I love that they love my food. It makes me want to put more effort into it."
Monetti's care for Liberty students comes from the care of his own children. Monetti, who has three children, said that a part of his philosophy as a chef is feeding his students like he feeds his kids, and strives to be a support system for any student who is struggling away from home.
Monetti commits his time from 8 a.m. to 8 p.m. every day to ensure that the students who visit the Training Table in the morning are fully satisfied; his usual work schedule does not cover mornings. He remembers the dietary needs of his regulars, and invests into the lives of the students he has not seen before.
"(Monetti) comes in early, and is willing to stay late to get it done," Michael Lowe, executive chef of Sodexo at Liberty said. "He loves Liberty, he loves the students, and he's very passionate about his job."
Monetti's job has formed into his ministry. His zeal for cooking and his love for God inspired him to go beyond the kitchen at the Training Table. Monetti's Facebook page, "Gather at the Table" seeks to dedicate his meals made at the Reber-Thomas Dining Hall to different prayer requests from those he finds and those that are sent to him.
"I got the idea from a friend of mine who runs coast-to-coast marathons and dedicates his training runs to great causes," Monetti said. "I wanted to do the same thing, but since I don't run, I dedicate my cooking."
Monetti has used the Facebook page to dedicate his cooking to events such as an anniversary of a loved one's death to significant causes such as sexual abuse awareness. Though the page covers a variety of topics, Monetti strives to keep God's name in the center of his outreach.
The students notice this, too. Chef Steve only became #CHEFSTEVE after a student mentioned him on Twitter. Monetti said that some students seem to know more about him than he does, and that he hopes to form this sort of close bond with every student that comes to the Training Table.
"I would be excited if I could feed every student on campus every day," Monetti said. "I never see myself as having too many customers."
Chef Steve encourages anyone who wants to get in touch with him to visit him at the Training Table during the day or look up his Facebook page "Gather at the Table."
YOUNG is a feature reporter.