Thinking green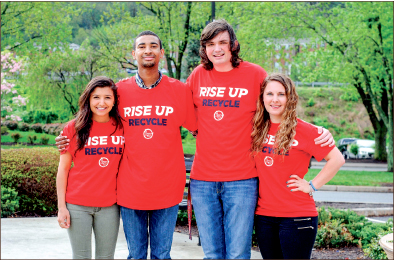 Club hopes to promote environmentally friendly practices
With no roof gardens, wind turbines or solar panels, Liberty University does little to stand out as an environmentally conscious school. However, one campus club is doing what they can to change that.
The Students for Stewardship club at Liberty takes on issues concerning recycling, local foods and energy saving. Maria DeFosse, president of the club, is a junior at Liberty majoring in environmental biology.
"It's our duty to take care of creation," Defosse said. "Our whole goal is to make students aware that we have the opportunity to recycle on campus. We want to see all the students getting involved somehow."
DeFosse's passion for the environment came from taking a class in high school that would unknowingly change her perspective.
"I took environmental science when I was in high school," DeFosse said. "I kind of took it just because I could, but I started to realize how important it was, and it became really close to my heart."
Furthering her passion is her belief in Jesus and creationism. DeFosse said Christians normally apply stewardship to other areas in life, but leave out the environment.
"(We want to) change that outlook and raise awareness for students to know it's our calling," DeFosse said. "We should care, because if we care about God, then we should care about his creation. Knowing that because God gave creation, we have a job to take care of it, and through taking care of it, we can help people."
The Students for Stewardship club holds meetings where ideas are brought forward and collaborations with other clubs take place. They regularly join forces with the Liberty University Campus Garden and the Liberty Grounds Department.
Regular activities for the club include recycling after football games and educating others on recycling.
The club also has bigger initiatives planned for this semester, according to DeFosse.
Starting April 28, the club is partnering with Goodwill to place special pods around campus where students can recycle goods instead of trashing them before they leave for summer break.
A project with Renew Merchandise, a company that makes clothing out of recycled plastic bottles, is also in progress.
"The tag (of the shirt) would say how many bottles have been recycled," DeFosse said. "The idea is that it will improve the amount of people who recycle by 30-60 percent."
Instead of buying clothes from companies such as Under Armor or Nike, students would be purchasing clothes from Liberty's own recycled bottles.
But changes on a larger scale are still missing from Liberty's campus.
Although Liberty has not released information about plans for major environmental changes or innovations, DeFosse said she has noticed smaller changes.
DeFosse highlighted a positive building change that was implemented in the newest Liberty dorm called the Commons.
"One thing that's new in the Commons is bathroom lights are automatic," DeFosse said. "They turn on when you come in and shut off after four minutes of no movement.
That's something that might have been left on for hours."
DeFosse hopes Liberty will eventually become a leader in sustainability and smart environmental practices. Until then, she urges students to start making small changes that amount to big ones.
"Go that extra mile to recycle because that's a small step that shows you care about the environment," DeFosse said. "It's more than putting a plastic bottle in the recycling bin. It's keeping it out of a landfill. You're conserving future resources. There's a reason behind it."

Fraser is a feature reporter.