Feeling at home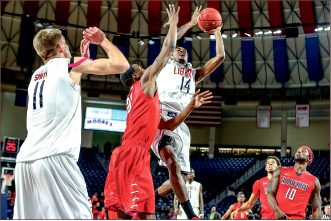 Theo Johnson is red-hot going into Big South tourney
Sacramento, California. Charleston, South Carolina. And now, Lynchburg, Virginia. This was the journey taken by Theo Johnson, the Flames men's basketball team's active leading scorer. And this was no short journey. The transfer student out of College of Charleston is having the best season of his career, but the scary thing is that this season almost did not happen for him.
Johnson, one of eight newcomers, was born and raised in Sacramento, California. Basketball was the sport he loved. In high school, his game blossomed. According to maxpreps.com, the forward averaged 19 points, eight rebounds and two blocks. He was ranked 70th in the state of California, but drew little interest from colleges along the West Coast.
"Honestly, when I was in high school, I didn't have any offers from the west coast," Johnson said. "I was probably gonna end up on the East Coast anyway."
And that is exactly what he did. He collected offers from schools on the east coast, but a particular institution stuck out above the rest.
"(College of) Charleston was my first offer," Johnson said. "… I ended up in Charleston because, like I've told everybody, once you visit Charleston, it's hard to not decide on Charleston."
The Cougars procured the forward's signature, and Johnson was headed to an area in which he fell in love. Everything seemed perfect. But eventually, trouble arose in paradise.
"Pretty much me and the head coach (of College of Charleston) didn't really get along like we should've (gotten) along," Johnson said. "I don't really know exactly what it was to this day, but it just didn't work out, and I guess that wasn't God's plan for me."
Due to the evident clashing between Johnson and the College of Charleston's Head Coach Doug Wojcik, Johnson believed that it was time for a change of scenery.
Flames men's basketball Head Coach Dale Layer caught wind of Johnson and his desire to transfer. Liberty expressed some interest in the California native, but the staff was eventually sold on Johnson after they received a phone call from a familiar name.
"There was an assistant (athletic director) at College of Charleston who used to work here, who (Liberty's Athletics Director) Jeff Barber knew." Layer said. "I had met him, but didn't know him. He contacted us and said, 'Here's a guy who's a good kid and seemingly got a raw deal. You all might be interested.'"
So Layer and his coaching staff did some further research and found out that Johnson was a viable option for the Flames. Johnson wanted to stay on the East Coast and also wanted to go somewhere where his spiritual life could grow, and both Layer and Johnson felt that Liberty was the right place for Johnson to get that fresh start.
And so, the next chapter in his life began in Lynchburg, but Johnson was not even sure that he was going to play this year. Due to the way in which Johnson left South Carolina, Liberty was able to bypass the transfer laws that prohibit transfer students to play in the season in which they arrive. But Johnson still planned on redshirting this season.
"Originally, I wasn't planning on playing," Johnson said. "I decided to (play), but then I sprained my ankle. So then that definitely brought the thought back if I should redshirt or not, because I wanted to be 100 percent healthy when I came back."
Johnson mulled over redshirting for a while, but he simply "had to play." And that is precisely what he did.
He chose to suit up, donning the No. 14 jersey, a number he has worn with pride since high school. Initially, he came off the bench behind forward Tomasz Gielo. But after Gielo went down with a season-ending injury, Johnson saw an increased opportunity for shots, points, minutes and most importantly, leadership.
"There's no question (he's emerged as a leader)," Layer said. "He's got great confidence and has found his niche as a player. … He's so talented that sometimes he tries to do too many things. But I think he's gotten locked into a really good role."
In Gielo's absence, Johnson was the source of much of the Flames offense. His length, combined with his athleticism, propelled him to lead all active Flames in points per game. He also said he has connected with all of his teammates, especially his roommate, Joe Retic.
"I definitely get along with everybody," Johnson said. "But I think people don't know the relationship me and Joe have. … We talk to each other and we see each other all the time. But I don't think people realize how much we talk off the court."
In his junior year, he has already doubled his averages from his first two seasons in nearly every offensive category. With the Big South Championship around the corner, Johnson looks to do as he has done for a majority of this season and carry the Flames. However, regardless of the outcome, Johnson will be back for the Flames next season looking to further improve his game, grow as a Christian and lead the Flames to a successful season.
HAYWOOD is the asst. sports editor.