Elmer Towns releases book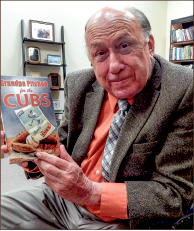 'Grandpa Pitched for the Cubs' features suspense centered on the diamond
Best-selling author of more than 200 books, former professor and co-founder of Liberty University Dr. Elmer Towns will release his first ever sports fiction novel, titled "Grandpa Pitched for the Cubs," May 15, 2015.
The novel, published by Heritage Builders Publishing, is a story about a man named Remle Noel who has always dreamed of pitching baseball professionally. His dream becomes a reality at a late age, when he is a grandfather. Remle is also a preacher, and the story tells of his struggle to hide his successful baseball career from his family and church.
However, Remle also has a dark secret in his past that is threatening to resurface and ruin both his careers.
Towns shared his inspiration for the story, speaking of his love for baseball, and more specifically, his love for the Chicago Cubs. Towns has been an avid fan of the Cubs since he had moved to Chicago in 1965.
"I wrote (the novel) 20 years ago," Towns said. "I took (my son) all the time to the Cubs games. … I always thought, 'I'd like to play baseball,' (but) I don't think I was good enough. … I (was) living a dream when I wrote the book."
Although Towns began writing the story two decades ago, he was able to finish and finalize the novel during his sabbatical in 2014.
Towns, who has won second place in a fiction novel contest for Virginia two years in a row, said his favorite part of writing "Grandpa Pitched for the Cubs" was keeping things a surprise until the end of the story. From beginning to end, the plot unfolds with one surprise after another, keeping the reader guessing until the conclusion.
According to Towns, there are a lot of parallels drawn between multiple characteristics of the story and Towns' personal life. For example, the main character's name, Remle, is "Elmer" spelled backwards. Also, the name Night-Train Hatch, a police inspector whose character is prominent in the novel, is based off of one of Town's former
teachers.
Towns has two more historical fiction novels coming out next year. One will be on the life of Job's wife from the Old Testament. The second is based on the wise men of the New Testament and concerns the birth of Christ.
Look for "Grandpa Pitched for the Cubs" in bookstores soon.

RITTER is a news reporter.