Global Focus Week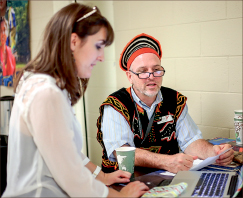 CGE prepares to welcome worldwide guests
Liberty University's Center for Global Engagement (CGE) will hosts its semiannual Global Focus Week conference Feb. 8-13 in an effort to promote global awareness.
Global Focus Week allows students to hear influential speakers from around the world, network in interactive cultural sessions and connect with cross-cultural workers. Throughout the week, students will have the opportunity to further learn about different people groups and to speak with representatives serving in all parts of the globe.
"Global focus week is beneficial because it allows students to not only learn but also be a part of the action," CGE employee Zachary Brooks said.
According to Coordinator of Special Projects Jonathan Williams, the CGE department is unique in the way it equips students to take the skills they have learned in their individual vocations and apply them within any cultural context.
"Liberty is one of the most culturally and globally focused campuses helping students to be richly aware of the opportunities to use their gifts and talents throughout the world," Williams said.
Global Focus Week will kick off during Monday Convocation, Feb. 9 with Iraqi pastor Ghassan Thomas. The week will then consist of
subsequent events such as the annual Taste of Nations, a music and arts global outreach and a special session entitled "Into the Muslim Mind."
According to CGE, Global Focus Week works in conjunction with the many academic programs, cross-cultural internships, short-term teams and mentorship opportunities that the department offers to help students broaden their perspectives and gain an overall appreciation of the work God is doing around the globe.
During Global Focus Week, Liberty's campus will become home to hundreds of representatives from every major continent on the globe.
According to Williams, networking with these representatives is one of the many benefits associated with participating in Global Focus Week. He encourages every student to make an effort to attend events.
"Global Focus Week creates an environment for students to be prepared to go out into different nations and help where God has called them," Williams said.
LEWIS is a news reporter.