Big South streak halts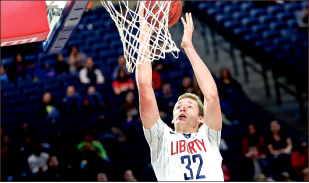 Men's basketball wins first conference game of the season over Campbell
The drought is over.
Liberty men's basketball finally tacked a conference victory onto its record with a 73-60 home victory over Campbell Tuesday, Feb. 10.
Redshirt freshman guard Ryan Kemrite's onslaught of three pointers early in the second half sparked the Flames (7-20, 1-13 Big South), and they never looked back against the Camels (9-18, 3-11 Big South).
Kemrite made three three pointers in a two-minute stretch as part of a 23-2 Flames run that flipped a 32-40 deficit into a 55-42 lead over the course of a significant chunk of the second half.
As a team, the Flames shot a blistering 55.8 and 66.7 percent in their best shooting performance of the 2014-2015 season. Junior swingman Theo Johnson went 5-6 from the field, including 2-2 from three to go along with Kemrite's 4-6 performance from deep. Senior forward David Andoh overcame six turnovers to lead the Flames in scoring with 16 points on 7-12 shooting.
Turnovers continued to be an issue for the Flames even in the win, as they gave the ball away 16 times, coming in right around their season average of 16.6 turnovers per game.
However, the Flames made up for their turnover issues with defensive intensity, holding the Camels to 60 points, the lowest point total the Flames had given up since a Dec. 31 matchup with the Camels. The Camels shot just 35.1 percent from the field and missed nine of their 18 free throws.
Whatever defensive intesity the Flames brought on Tuesday was invisible when they traveled to Coastal Carolina (18-8, 9-5 Big South) Saturday, Feb. 14, leaving with a 96-56 shellacking at the hands of the Chanticleers.
The defending Big South champions were firing on all cylinders against the Flames, knocking down pretty much everything, including 13 of their 23 three-point attempts. Preseason All-Big South second team selection sophomore guard Elijah Wilson was particularly devastating, torching the Flames for 17 points, hitting four of five from three-point range.
Coastal Carolina's foursome of talented guards — Wilson, Warren Gillis, Shivaughn Wiggins and Josh Cameron — combined for 55 of the Chanticleers points with none of them even playing 30 minutes. Perhaps more impressive, the foursome only combined for a lone turnover.
Conversely, the Flames starting backcourt of Jordan Dembley, Kemrite and Johnson combined to shoot just 6-22 and turned it over six times. After their first Big South win since Feb. 25, 2014, against Longwood, the Flames suffered their worst loss since a 84-42 defeat at Richmond in 2012.
The Flames will be looking to get back on the right track Tuesday, Feb. 17 at the Vines Center against Longwood. Tip-off is scheduled for 8 p.m.
Tichenor is the sports editor.