Slow start for Flames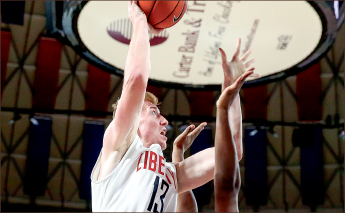 2014-15 men's basketball team trudges through the first half of the season
Singer Barbara Cook once told us in her legendary voice, "It's not where you start, it's where you finish." Unfortunately for Liberty, she may have been
onto something.
After an 85-71 defeat against conference opponent Longwood Lancers (6-13, 2-4 Big South), the Liberty Flames men's basketball team extended this season's conference losing streak to six games, tying the 2011 season for the worst conference start in program history. Nearly a month into conference play, the Flames have yet to pick up a win against a Big South opponent. With a subpar 6-13 record (0-6 Big South), it is safe to assume that this is not the start Head Coach Dale Layer anticipated.
This past offseason was a busy one for the Flames coaching staff. It was tasked with replacing graduated seniors, including starting guard John Caleb Sanders and starting forward Antwan Burrus, who were responsible for most of Liberty's points, rebounds and assists. However, along with the statistical contributions, the players also brought valuable experience. Last season's core unit had played together two to four years. With that kind of time together, the chemistry between teammates was able
to develop.
But now, Layer has a group that has played just under 20 games together, and that aforementioned chemistry from prior seasons is not present. Liberty now has a completely different roster this season. It was not given the luxury of bringing back many experienced athletes. Five graduated and three transferred. To counteract the roster losses, Layer brought in a promising group of eight athletes for the current season. Since most of the roster's additions were freshmen, this team is young, and
thus inexperienced.
Despite the new roster, the Flames tipped off the season with two straight victories, one of which was against the reigning Colonial Athletic Association champion Delaware Blue Hens. Senior forward Tomasz Gielo — one of the few remaining veterans — led Liberty to victory with a commanding 23 points and 10 rebounds (his first career 20 and 10 game).
Believe it or not, the 2-0 start was one of the best for Layer's club in quite a few seasons. However, the Virginia Tech Hokies were next up on the schedule, and this game proved to be a true test. The Flames were only down by three at halftime, but they ultimately fell to Tech by 10. Adding insult to injury, this tough loss ignited a four-game losing skid for Liberty.
After Blacksburg, the Flames headed south of the border for the Cancun Challenge. Liberty, along with three other teams, was invited to Mexico for this preseason tournament. The Flames returned to Lynchburg empty-handed, losing to all three opponents, including two games by double digits.
However, while in Cancun, Layer saw further emergence of junior David Andoh, a transfer form Merritt College. Despite going scoreless in game one, Andoh posted 10 points and seven rebounds in game two, ultimately earning the starting forward slot for game three. This was one of the first of many starting lineup shifts from Layer. Game three ended in a heartbreaking one-point loss at the hands of the Morgan State Bears.
The Flames would appear to have bounced back after a dominant performance against the Furman Paladins. Andoh did not start, but boasted game highs in both points and rebounds (14 and 12). Another lineup change occurred when Layer integrated freshman guard A.C. Reid, a three-point specialist out of Texas, into the lineup.
At this point in the season, the Flames were 3-4 and undefeated in the Vines Center. To some, the victory against Furman was a positive sign of the future, but the statistics gave rise to valid concern. Yes, the Flames did win, but this game exposed many issues that would continue to haunt them.
Liberty ended the game with 18 turnovers. Twelve games later, the Flames currently average 17 turnovers per game, which is good for 347th out of 351 Division I (DI) teams.
The Flames also shot 12-18 (67 percent) from the free throw line. Twelve games later, the Flames average an eye-watering 66 percent from the free-throw line.
Maintaining those numbers alone would make it difficult for any team to be successful. But unfortunately for the Flames, free-throw shooting and turnovers would become a mere fraction of their problems.
After the Furman victory, the injury bug made its way to Lynchburg, Virginia. The up-and-coming freshman Reid injured his nose. Starting point guard Joe Retic is also out indefinitely with a foot injury. But, the most devastating loss by far was leading scorer Gielo, who sustained a leg injury that has sidelined him for nearly two months.
Reid recently returned to the court, but Gielo and Retic are still out, leaving forward Andrew Smith and guard Ethan Layer as the only two with experience as Flames.
Since Gielo's injury, DI opponents have outscored the Flames, 623-512. During his absence, the Flames allowed 69 points per game but only score 57 points themselves. Gielo is the only Flame to average 10 or more points (the closest is Andoh with 9.5, per espn.com).
Scoring is low, which means the assist count is as well. Liberty is tied at 267th in assists per game. Retic and guard Peter Moller combine for 9.2 assists per game, which is well over half of the team's average. Outside of those two, not a single player averages two or more assists per game.
It would be an understatement to say that this has been a rough start for the Flames. Starters keep falling to injury, and espn.com calculates that the Flames have the second worst Ratings Percentage Index (RPI) ranking in DI basketball. RPI is a major tool the NCAA uses to select which teams make it to the National Tournament at the end of the season.
While the RPI will probably not be in Liberty's favor come tournament time, the Flames season is not over. Gielo and Retic are set to return sometime next month. When they hit the court, they will have a young team that has grown since the season began last October. However improbable and unlikely it may appear, the Flames can still win the Big South Tournament. And a conference championship means a ticket to the Big Dance.
Haywood is the asst. sports editor.