Mu Kappa throws party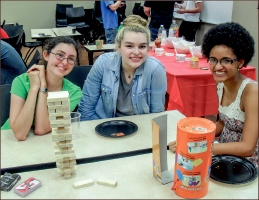 New club hosts its first event for third-culture students
The new club, Mu Kappa, kicked off the school year with its first event Aug. 29. A nationally recognized fraternity, Mu Kappa targets a very specific demographic — third culture kids (TCKs).
A TCK is defined as someone who "spent a significant part of his or her developmental years outside their parents' culture," according to tckworld.com. This includes missionary kids, military kids, international students and anyone else who spent significant time outside of their native country.
"The main goal of the Liberty chapter (of Mu Kappa) is to build community with (missionary kids), TCKs and other globally minded people," Shaina Wareing, the club's event coordinator, said.
Wareing's parents did not become missionaries until she was in college, meaning she never lived outside of the United States. But that has not prevented her from taking an active role within the club.
Mu Kappa opened the semester with a two-hour game night on the fourth floor of DeMoss Hall. More than 50 students participated in the event.
"We had no idea so many people would show up," Alyssa Brown, the club's public relations manager, said. "We had students from all around the world, from Haiti to Poland to Roanoke, Virginia."
For the first part of the evening, students were free to play any of the games set up on the tables, ranging from the card game spoons to a pirate-themed version of Life. There was also a snack table with chips, salsa and drinks.
The room was filled with laughter and conversation as students caught up with old friends and introduced themselves to new ones. Bethany Thomas, a student who had lived in Poland, was excited to discover that there was another TCK in the room who had lived in the same country. She and her new friend even exchanged a few
words in Polish.
Fellow TCK Shannon Rutledge said that one of the best parts of the event was being able to meet other TCKs and students interested in global missions.
"I think having a group of people that understand you at a fundamental level is crucial, especially for college students transitioning to school and American life," Brown said. "From personal experience, coming to college is hard enough, but the added stress of parents being continents away and feeling stranded can be too much to take alone."
According to Wareing, it can be a hard transition for TCKs when they first come to the United States.
"(TCKs) are a mixture of several cultures, and it's hard to come into a society that expects them to act American when they can't," Wareing said. "(Mu Kappa) gives them a chance to be with people who understand what they are going through, and they can grow together."
Toward the middle of the event, a large group of students started a game of Never Have I Ever. The wide variety of backgrounds led to some interesting and occasionally entertaining revelations as students admitted to everything from eating strange foods to surviving hemorrhagic fever or never having driven a car. Any time it was discovered that only one player had completed a particular feat, the rest of the group clapped to acknowledge the accomplishment.
The number of players continued to grow until almost the entire group was playing while the rest watched in amusement. Rutledge said playing the game was easily her favorite part of the night. The game carried on for more than an hour before club co-president Jessika Sams finally broke it up, announcing that the game
night had come to an end.
"I think (the event) was an overall success, and I cannot wait for more events over the course of the semester," Wareing said.
Sams was also thrilled with the turnout the event received and said she was grateful to God for preparing the way for the club. With regards to future events, she said to keep an eye out for an event in November.
"We're planning a specific cultural festival that will not only be fun to take part in, but also give us a chance to intercede in prayer on behalf of a nation and a people," Sams said.
For more information on the Liberty chapter of Mu Kappa, go to facebook.com/mukappa-
libertychapter.