Global awareness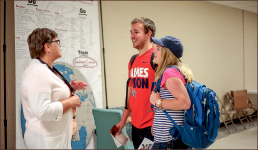 CGE hosts internationally inspired events
The Liberty University campus gained a global perspective last Monday through Wednesday, Sept. 15-17, as the Center for Global Engagement (CGE) hosted Global Focus Week.
Global Focus Week is a semi-annual conference that, according to the CGE, exists to raise student, staff and faculty global awareness.
In an effort to expose students to ongoing Christian work around the world, CGE organized a special Convocation and a Persecuted Church Symposium featuring global worker and humanitarian Nik Ripken.
According to students, keynote speaker Ripken quickly engaged the student body during Convocation Monday morning with his message entitled "Love Your Enemies."
"He challenged us — asked us what it really meant to love our enemies," Kay Foster, a sophomore at Liberty University, said. "Christ died as much for them as he did for us. It's about loving people who are hard for us to love."
According to Foster, Ripken's message was both powerful and personal.
"I liked his realness," Foster said. "That's a huge aspect of reaching out — not pretending you have it all together. It was as much about reaching out to your neighbor as it was about reaching out to the ends of the earth."
Ripken delved deeper into the issue of global opposition to the church at the Persecuted Church Symposium that was held Tuesday evening. The event allowed students to gather and dedicate a night of prayer to global workers serving overseas.
According to Morgan, a student worker in CGE, students responded to both Convocation and the symposium by expressing interest in "going to places where Jesus' name has not yet been proclaimed."
"We got a lot of feedback (from students) about reaching the world, about going to the places most people don't want to go," Morgan said.
Global Focus Week not only sought to draw attention to the needs of those who serve around the world, but also exposed students to various world cultures. During the week's Experience Hungary exposition, students sampled Hungarian food and spoke to global workers from Hungary.
According to Morgan, representatives from various organizations spoke with students throughout the week about everything from work in the global field to cultural subtleties such as international greetings.
This fall, CGE teamed up with 11 partner organizations and 70 representatives from around the world in order to better equip students with the opportunity to learn from people with real-world experience in living cross-culturally.
"Some of (the representatives) actually live here in Lynchburg and recruit at Liberty," Morgan said. "But some of them have come from where they are working overseas just to be here with the students."
The organizations set up booths in the back of DeMoss Hall where students were able to speak with representatives from several organizations and receive more information on their work overseas. According to Morgan, the representatives come to "pour into the lives of students and mentor them and give them information about what overseas work looks like."
According to CGE, Global Focus Week will be held in the spring semester Feb. 9-13. For more information on CGE or on Global Focus Week, visit liberty.edu/globalengagement.

FULLER is the graduate assistant
Research contributed by RJ GOODWIN