Cultural melting pot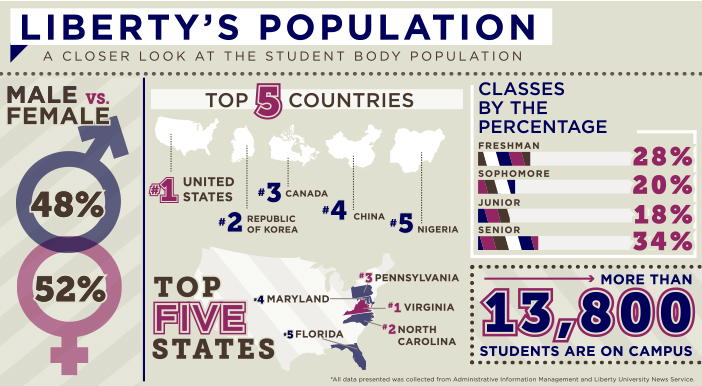 Students from around the world come to Liberty's campus to learn and grow
From Pakistan to Paraguay and Brazil to Bermuda, students across the globe are hearing about Liberty University, and they are making the journey to Lynchburg, Virginia, just to attend.
In Liberty's 43-year history, students in the international program have represented 126 different countries. The program has steadily exploded and flourished, expanding year by year with no signs of slowing down.
Kristina Bautista, operations assistant and health insurance representative in International Student Services, credits the Christian environment for playing a significant part in the university's thriving program.
Anelbi Franco Mateo, who studies pre-med and is from the Dominican Republic, agreed that the environment was a definite factor in her decision to attend.
"Liberty seemed like a good opportunity to grow and to learn," Mateo said. "In pre-med, it's important to have a Christian environment because it starts all the way back from creation."
Mateo believes a biblical basis for education is crucial for a complete understanding of her science courses.
"Where would you even go from there without it?" Mateo said.
Such a large influx of international students for such a relatively young school suggests that Liberty's international program goes above and beyond to attract foreign prospects.
Although Liberty has a quickly growing multicultural population, much can be said for the programs that help international students succeed here at Liberty, from undergraduate to doctoral.
Bautista said that part of what sets Liberty's international student program apart is the English Language Institute.
"Not a lot of schools have an International Student Center or an international program such as ours," Bautista said. "The English Language Institute helps students learn English before they go into their graduate, undergraduate or doctoral programs. Also, the variety of different programs we have, like the aviation program, draws a lot of international students."
Bautista said the international program is crucial to "opening up your worldview and opening up your mind to other people's points of view."
In just seven years, the number of visitors to the International Student Center has more than doubled from 27,222 in the 2007-2008 school year to 66,415 in the 2013-2014 term. Several factors contributed to such rapid growth. The center cites its new location on the second floor of DeMoss Hall, as well as the 12 open houses held just last year, as two of the main reasons for the increased foot traffic and international visitors on campus. Domestic visiting has shot up as well.
This year alone, Liberty's student body represents 86 different countries, which make up 46 percent of the world's countries. Six countries never represented before — Norway, Kazakhstan, Malawi, Madagascar, Austria and Slovakia — are among those 86.