'We talkin' about practice'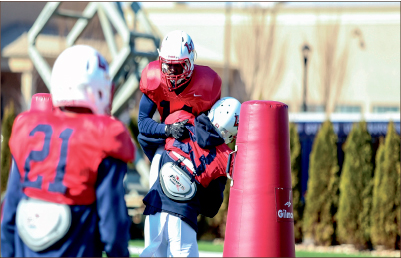 The Flames have already begun their training for the upcoming season
One week into spring at Liberty University, there has been a little bit of snow, rain, sunshine and, for the first time of 2014, a little bit of football. The Flames finally got out onto the Williams Stadium turf after months in the weight room when spring practice began March 19.
"It feels good to be back," Flames running back Desmond Rice said. "We've been in the weight room the past two months, and we've been working hard down there, but it's all about getting the pads on and getting to fly around to get ready for this upcoming season."
The last time the team suited up was Nov. 23 for its final game of the regular season against Charleston Southern. After a four-month hiatus from football, everyone has had to brush off some dust.
"The first three practices, you could definitely tell we hadn't been out here together," quarterback Josh Woodrum said. "Everyone was kind of rusty. But (now), I think we're clicking pretty well."
However, with games not on the horizon until late August, practices do not have quite the same feel or strategy that a mid-October session would.
"We're not scheming, we're not game-planning (during spring practices)," Flames Head Coach Turner Gill said. "This is more experimental and for looking at specific things that we might want to change from what we did last year."
Also, not only does the routine differ from a regular-season practice, a familiar bookend to the week is also missing — game day. The annual intrasquad spring game will take place April 12, but that still is not the same as a regular-season game in the minds of the players.
"Spring ball is a really tough scenario to be in, because you practice all week and you're expecting to play the game at the end of the week, but we come out and we just hit each other for a scrimmage," Woodrum said. "You have to have a lot of internal motivation."
Still, the team knows practice in March and April is all about preparing for a season-opening date with Football Bowl Subdivision opponent University of North Carolina (UNC). Flames defensive end Chima Uzowihe said he is already hearing the buzz around the team and around campus about the Aug. 30 matchup with the Tar Heels.
"Our focus is on UNC," Uzowihe said. "The only way we'll beat UNC is to get better every day, so every day I come out here (and say to myself) 'UNC.' Every day I visualize (playing UNC), and it pushes me to get through something I don't want to do."
Despite some of the difficulties of spring ball, Gill said he has been happy with the energy and focus of his players. The damp air was filled with encouraging football chatter mixed in with plenty of chest bumps and high fives during the Flames March 28 practice session.
"Everybody's trying to get better, focusing on being a teammate, encouraging each other." Gill said. "Guys are motivated, and we want to improve from last year."