Remembering the Civil War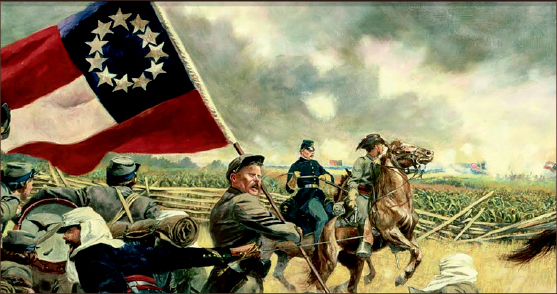 The History Department will host the 18th annual seminar April 4-5 in DeMoss Hall
Liberty University's History Department will be hosting a Civil War seminar April 4 and 5 with keynote speaker Dr. James Robertson. This is the 18th year that Liberty has had a Civil War seminar, according to Kristina Burdeaux, office administrator for the History Department.
"Eighteen years ago, Kenny Rowlette and Cline Hall were the ones who started it," Burdeaux said. "They just had a passion for the Civil War. They wanted to get that information out about the war and teach young people."
Robertson is a distinguished professor of history at Virginia Tech and is one of the most sought-after speakers on the Civil War in his field, according to Virginia Tech's website. He will be giving a speech Friday, April 4 entitled "How the Civil War Still Lives" and another Saturday, April 5 entitled "Johnny Rebs and Billy Yanks: Uncommon Soldiers." Other speakers at the event include Dr. Jonathan White, Dr. Kyle Sinisi and Greg Starbuck.
According to Burdeaux, this year's seminar will focus on the year 1864. According to the United States National Park Service, Lynchburg, Va, played a part in the Civil War June 17 and 18 of that year, when Union Gen. David Hunter attacked Confederate depots in Lynchburg. Confederate Gen. Jubal A. Early fought Hunter back, resulting in a Confederate victory.
The battle resulted in 900 casualties out of 44,000 troops, according to the National Park Service.
Usually, there are approximately 150 people from the public who attend the event each year, Burdeaux explained.
"The amount of Liberty students that attend varies each year but it is usually close to 100," Burdeaux said.
The seminar is free for Liberty students to attend and will include door prizes, according to Burdeaux.
"It would be successful if some of the students learned something they hadn't learned about the Civil War before, and enjoy the speakers that we are having this year," Burdeaux said. "It is good for everybody to learn more about our country's history and be aware of what sacrifices were taking place so that we can keep our freedom."
Liberty students already have this opportunity, as Liberty is home to the National Civil War Chaplains Research Center and Museum Foundation that features Civil War artifacts and guided tours. The museum was created by Rowlette and exists to educate the public on the role of chaplains during the Civil War, according to the museum's website.
"Come on out," Burdeaux said. "We'd like to pack the rooms completely."
Tickets may be purchased at the ticket center. For more information, visit the seminar webpage at liberty.edu/civilwar.