Home fortress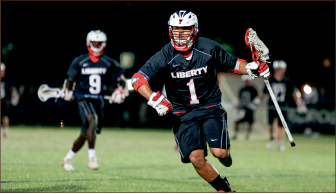 Men's lacrosse wins its 10th straight home match
Seconds after the George Washington Colonials (3-6, 1-2 SELC) scored, the Liberty Flames men's lacrosse team (10-3, 3-0 SELC) won the faceoff and attacker Ryan Miller began to move toward the Colonials goal box. Miller found attacker Chris Armstrong cutting into the Colonials defense and slung the ball into the back of the net.
This was the beginning of a five-goal onslaught, which started less than a minute into the third quarter and helped the Flames defeat the Colonials 19-6 Saturday,
April 5.
Faceoff specialist Charles Flanko also initiated the offense for the Flames, winning 13 of 23 faceoffs.
"Our best type of offense is when we can score in bunches," midfielder Michael Zumpano said. "It is huge for shifting momentum, and it really takes the other team out of the game.
Charles (Flanko) did a good job facing off. That was huge for us, because it placed a lot of things in our favor offensively."
Liberty was successful in creating its offense from defense and moved the ball quickly upfield. After making saves, goalie Ethan Kamholtz easily found open teammates in transition.
"(Moving in transition) is something we are always trying to do," Head Coach Kyle McQuillan said. "Where that starts is with Ethan on that quick turnaround. When he gets that save, we get our mids turned around, and we start pressing in the opposite direction. If we can get that first pass and move the ball within a couple of seconds, we can be a dangerous team."
Attacker Charles Frattini and midfielder David Goscinak, the Colonials leading scorers, struggled against the Flames defense, scoring five goals combined.
"Their whole offense runs through them two," defenseman Tommy Rolewichz said. "They are both phenomenal players and they both have great shots. If we shut them out, the rest of their attack slows down with them."
Midway through the first quarter, Liberty held a 3-0 lead until a Goscinak goal put George Washington on the board. Moments later, midfielder Chad Moore won the faceoff and ran through the heart of the Colonials defense to score his first goal of the game.
After Moore's goal, Liberty scored eight unanswered points. The Flames went into halftime with a 13-1 advantage.
At the start of the third quarter, Frattini, who struggled in the first half, found his footing in the game, putting two goals on the board for the Colonials to reduce the gap to 10.
"I think we did a good job against (Frattini and Goscinak)," McQuillan said. "We kept their chances and goals down."
Liberty then went on to score five more goals, increasing the margin to 15. The Flames chewed the clock in the fourth quarter and added another goal to the stat sheet.
Miller had a game-high four goals and four assists. Kamholtz ended the game with 15 saves.
The Flames will finish up their regular season against Virginia Tech Friday, April 18 at 8 p.m.
"It's important for us to win the rest of our games," Zumpano said. "We want to go into the SELC playoffs as the No. 1 seed, and we know it is going to be through the next two teams that we play. With Virginia Tech being the last one, that is going to be a pretty big game for us. What is important for us is to take it one game at a time and not overlook anyone and continue to play our game."