Green trend expands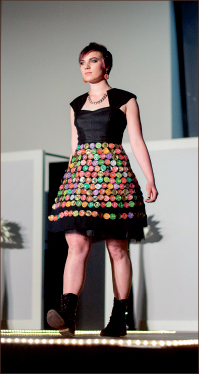 Saving the planet one stitch at a time at the annual fashion show
Liberty students showcased their design skills at the Department of Family and Consumer Sciences' (FACS) eighth annual fashion show Saturday, April 12, in the Schilling Center.
For this year's theme, "Go Green, Go Glam," student designers were required to create outfits that incorporated at least 60 percent recycled materials and 40 percent of any other materials.
"We (had) designers using everything from old CDs to newspaper to Wal-Mart bags," Fashion Show Director Kristen Goodrich said. "The possibilities (were) literally endless, and (the designers) have (used these materials) in such an incredibly beautiful way."
The show displayed designs from 20 students, which is the largest group that has participated in a Liberty fashion show, according to Goodrich.
"Most of the designers are students from the Department of Family and Consumer Sciences, the fashion-merchandising program." Goodrich said. "(However), we do have some students come in from other departments who just love to sew, and they just want to get involved and they want to design. So, it is just open to all students of Liberty."
For Devon Ramsy, a senior at Liberty, this was her first time participating in a fashion show as a designer.
"I think it is really cool that we could piece together eco-friendly and fashion all together into something that I think Liberty (stands) for," Ramsy said. "I think (going green) is something that's really evolving to be a big trend right now (around) the whole world. I think it's cool that we can kind of take a sector of it and make it our own in fashion."
Ramsy went on to win the Green Elegance Award later that night.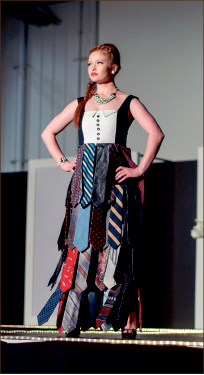 Returning designer and Liberty Senior Amanda Isidro, also said she enjoyed the theme.
"In this (show), you (could) definitely see everyone's creativity come along." Isidro said. "Just the whole idea of using garbage bags or … all of these different kinds of materials is really cool."
Isidro received the Best Use of Color Award, the Audience Choice Award, and the Judges First Choice Award for her designs, which included the use of coffee filters, brown paper, and duct tape.
"Every year, we pick a charity to donate (the) proceeds from our show to," Goodrich said. "This year, our charity is Channel Initiative, (which) was actually started by Liberty University alumna Dominique Vidale-Plaza. Her charity is over in the Democratic Republic of Congo. Her goal with that organization is to minister to the underappreciated women and families over (there)."
The show's intermission began at 9 p.m., during which the audience was offered refreshments. By 9:30 p.m., the models came back out with their designers, and Goodrich came back to the stage to present the fashion show awards 15 minutes later. The show came to a close just after 10 p.m., when Goodrich closed with prayer.
Daniel Kraus, a student at Liberty's Aviation Technician School, attended the show to watch his wife model the design by their friend, Lisa Povrik.
"There were some pretty awesome dresses," Kraus said. "It was fun to watch (the models) afterwards, when they came out with the designers."
Though this was her first time as a designer, Ramsy was glad she was able to display her talent in the show and hopes students who are unsure of their talents will gain confidence, just as she did.
"I (encourage students) just to try everything, even if (their) friends aren't gonna try," Ramsy said. "There's, like, so many opportunities at Liberty to get involved in really random stuff. Just go with it."
Isidro also believes students should not let their fears hold them back.
"Don't be afraid to try new things," Isidro said to students. "Don't let fear get in the way because, once you let that go, your talents just show through."