Student brings home top prize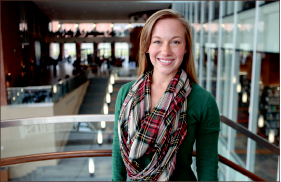 Sarah Corder is named PRWeek's Student of the Year in New York City, March 20
Before 900 of some of the nation's most distinguished public relations professionals, senior Sarah Corder was named the PRWeek Student of the Year at the PRWeek Awards 2014 gala at the Grand Hyatt Hotel in New York, March 21.
In addition to a trophy, Corder received a cash prize as well as a paid summer internship at PRWeek.
She became the second Liberty student to win the competition in the past three years, according to Dr. Angela Widgeon, associate professor of Digital Media and Creative Arts.
Among more than 100 students entering the competition each year, Keri Cook brought home the award in 2012, three other Liberty students placed in the top five over the past two years and Danielle Jacobs finished in the top two in 2010.
"I am extremely proud of Sarah," Widgeon, who requires students to enter the competition in her public relations writing course, said. "She told me that she was going to work hard, learn everything she could and apply what I said, because she believed she could win, and she did."
The PRWeek Student of the Year competition required each contestant to create a campaign for a fictional airline called Flight, according to PRWeek's website. Each student wrote a five-page essay explaining how he or she planned to increase frequent flyer miles while sponsoring the 2016 Summer Olympics in Rio de Janeiro.
Corder said Widgeon required her students to go "above and beyond" by also submitting a 20-page plans book, a report that is a visual representation of the ideas for the campaign.
Corder was recognized for sound research, professionalism and strategic use of social media, according to PRWeek's website. Her idea to motivate customers through charitable contributions also won the approval of judges.
"(Corder's) concept of having the airline plant one tree in Brazil's Atlantic Rainforest for every 100 miles flown in June and July 2016 was a noteworthy nod to the 'doing good is good business' philosophy so prevalent today," PRWeek's website reported.
According to Corder, being named Student of the Year already gave her the opportunity to begin networking with leaders in the public relations field while at the award ceremony.
"I ended up sitting at a table with people who work at companies we study in our classes and some of the people who had actually judged my project," she said.
According to Corder, she believes the award and her internship at PRWeek will continue to create opportunities for her in the future. Cook, who is now an account executive at SS+K, a marketing firm in New York, agrees.
"Winning this award had a huge impact on my personal and professional life, as it essentially helped me to determine what city, industry and company in which I'd jump-start my career…" Cook said. "I think this is a great opportunity for Sarah in terms of opening doors and helping her choose what she wants to do with her learning, experience and ambitions."
Corder said she is excited to begin her internship but is also aware that entering a secular environment will present new challenges.
"People aren't always acting the Christian way, and you have to stand your ground …" she said. "It's going to be tough, but I think that God put me here for a reason."
According to Corder, her classmates and professors, such as Widgeon and Amy Bonebright, have helped her prepare both spiritually and professionally for the workplace.
"Sarah put together a very smart campaign," Widgeon said. "She paid attention to the client's needs, conducted research to better help them understand their target audience and developed a creative strategy, which brought the two together."