Flame Train keeps rolling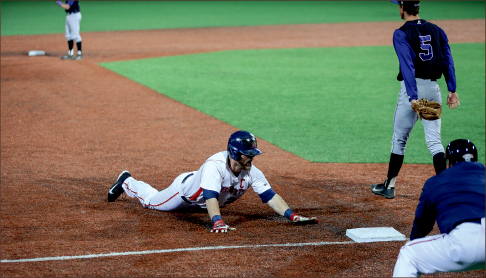 The Flames swept High Point, capturing their 12th win in their last 13 games
Liberty 6, High Point 4
Liberty Flames Head Coach Jim Toman normally occupies a spot on the top step of his team's third- base dugout, always ready to make any necessary decisions or offer guidance to a player.
During the Flames Friday night Big South Conference matchup against the High Point University Panthers March 21, Toman watched from his usual spot as his starting pitcher, senior Trey Lambert, struggled through a 30-pitch first inning. As two runs crossed the plate in the first, followed by two more in the second inning, Toman began to entertain thoughts of leaving the top step and removing his team's ace from the game.
"I thought about six times about taking him out, but I kept saying, 'The guy is a captain, and he's won a lot of games for us,'" Toman said. "So he deserves to be out there. If it was a younger guy who doesn't have the credentials, then you get him out of there, but he's earned that."
Toman's decision to stick with his best starter proved to be a good one as Lambert delivered a much-needed 1-2-3 inning in the top of the third. Although the Panthers racked up 13 hits in the game, they failed to score after their two runs in both the first and second innings and fell to Liberty by a score of 6-4.
"He was just getting hit, I don't know," Toman said of Lambert's early-game struggles. "It's almost like they had our pitches or something."
The Flames entered the fourth inning facing a 4-1 deficit. After a Dalton Britt walk, three straight extra-base hits by Alex Close, Danny Grauer and Dylan Allen fueled a four-run rally that put the Flames up 5-4.
Lambert's seventh-inning exit was followed by scoreless appearances from Blake Fulghum and Matt Marsh. Ashton Perritt, battling back tightness after eight innings in center field, followed and made the ninth inning a little more interesting.
Jake Kimble, who had just entered the game as Perritt's replacement in center field, tracked down a fly ball in left-center field, but it tipped off his glove, allowing High Point leadoff hitter Josh Spano to reach second base.
"Being a closer, you gotta just get used to the situations," Perritt said. "Even if an error does happen, you just gotta flush it and keep going."
After a quick strikeout, Spano had to stop at third on a single, and Perritt plunked the next batter to load the bases.
The tension at the Liberty Baseball Stadium rose as quickly as the volume. A few pitches later, the crowd sudddenly erupted in celebration as Perritt nailed down the save with a strikeout and a groundout.
The Flames improved to 3-1 in the Big South Conference and 16-7 overall after Friday night's win.
Liberty 8, High Point 1
The Flames defeated the Panthers Saturday, March 22 in the second game of the three-game series behind the strength of shutdown pitching from Carson Herndon and timely hitting from Grauer.
Herndon allowed just one run on three hits in six innings of work against the Panthers, improving his record to 3-1 on the season.
"The key was he only walked one guy, (and) pitched to contact," Toman said. "He's hard to hit. He pitches downhill, and he was really good today."
In the bottom of the second inning, the Flames got on the board first with a line-drive single through the right side of the infield by Perritt, driving home Close from second base.
One inning later, the Flames managed to take advantage of a lack of control from High Point starting pitcher Mike Krumm and a blunder from right fielder Dane McDermott to score three more runs via a sacrifice fly from Close and a two-run double from Grauer.
With one out in the sixth, Grauer hit a screamer toward the center-field wall, which was initially corralled by High Point centerfielder Josh Greene. However, Greene was injured as he dove face first into the center field wall, subsequently causing him to lose control of the
baseball.
With Greene laying on the warning track, Grauer rounded the bases for an inside-the-park home run giving the Flames a 5-0 lead.
"Rounding second, it was kind of tough to look out and see him kind of flat out as he was, but it was good to get around the bases at the same time, and I hope he gets healthy," Grauer said.
Greene was stretched off the field and taken away in an ambulance but was seen moving his arms and legs, giving the crowd a thumbs up while leaving the field.
The Panthers had their best chance to cut into the Flames lead after loading the bases with no outs in the seventh, forcing Herndon out of the game and bringing in Fulghum.
Fulghum was able to minimize the damage to just one run after forcing a double play then striking out the next batter.
"(Fulghum) comes in, gets out of jams and just gets outs," Toman said "… There was a momentum shift going on, and if he doesn't get out of that, all of a sudden it becomes a close game."
The Flames capped off their scoring with three more runs in the bottom half of the seventh thanks to a two-run double from designated hitter Becker Sankey and a sacrifice fly from Close.
Liberty 4, High Point 1
The Flames completed the three-game sweep of the Panthers thanks to a dominant performance out of the pen from reliever Shawn Clowers.
Clowers, who would later be named Big South Co-Pitcher of the Week, pitched 4 2/3 innings of shutout baseball, striking out six and improving his record to 3-0.
Liberty wasted no time getting runs across with two in the first inning. Sankey drove home the first on a sacrifice fly, scoring Shepherd, who reached on an infield single. Seiz scored later in the inning, as he advanced home on a throw to second after Britt attempted to steal.
The Panthers responded in the third, cutting the Flames lead in half with an RBI groundout from catcher Spencer Angelis.
Liberty plated a lone run in the fifth and seventh innings to ensure its fourth straight victory.
The Flames will stay in Lynchburg to take on the Virginia Tech Hokies Tuesday, March 25 at 6 p.m.