Fear 2 Freedom encourages victims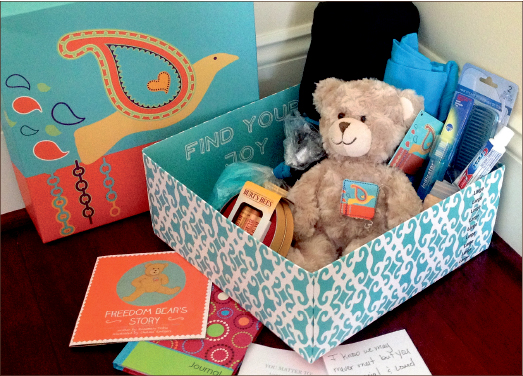 Students to gather in the Schilling Center to raise awareness and assemble kits for the sexually abused
"We can help stop the cycle of abuse in our generation, and I truly believe that this generation of young people, and especially those at Liberty – you all have a servant's heart, you have a mission's heart – you all want to make a difference."
Rosemary Trible, president of Fear 2 Freedom (F2F), said she began hosting Celebration Events across Virginia two years ago, an event that will take place in Liberty University's Schilling Center March 20 from 7-9 p.m. According to Trible, the Celebration Night will give students the opportunity to put together 250 kits that will meet the needs of those entering hospitals as a result of sexual abuse.
"My dream has always been to be able to do something right at that point of greatest trauma for someone that's been sexually assaulted when they first go to that hospital," Trible said. "So, providing them T-shirts and underwear and the toiletries and a little freedom bear, which is a beautiful counseling tool and a picture of comfort as well … helps get their mind off it."
Trible said this event at Liberty will consist of putting together the F2F kits, listening to speakers, including Trible, tell their personal experiences of being victims of sexual assault, enjoying refreshments and writing letters to victims.
"When (victims) come to the hospitals, they don't always realize that their clothes have to be kept for evidence, and so literally … so many times they're leaving in paper scrubs or hospital gowns," Trible said. "And this just broke my heart. And so, we actually formed (F2F) in 2011 and began the following year with doing the Celebration Events, and next year we're adding on Northern Virginia and actually, we're considering moving onto a national campaign."
According to F2F's website, the idea for the kits – which include sweatpants, a T-shirt, underwear, toiletries, gum, a washcloth, a freedom bear and a journal – began after Trible spoke with Jean Cheek, the coordinator of The Forensic Nurse Examiner Team at Virginia Commonwealth University Medical Center, who explained the added trauma of a victim's hospital experience.
F2F partners universities and hospitals together in order to provide kits for victims, according to Trible, who said she is proud to be involved with Liberty and Lynchburg General Hospital.
"(Lynchburg General) makes a determination of how many women, how many boys and girls, need the kit, and so Liberty was a perfect matchup for that," Trible said. "Our mission is to redeem and restore those sexually assaulted, bringing them hope and heeling … and secondly, to partner the universities and hospitals, so that we can provide the Celebration Night. … But it allows these university students to be empowered to be part of a solution, that they can actually make a tangible difference in the life of someone."
Trible said she will be sharing her own story of sexual abuse, which she said is where her mission and passion comes from.
"I truly believe it was the Lord that helped me overcome," Trible said. "I had always been a very trusting and open person, and suddenly, I was just living in fear. And (overcoming) was actually through the power of forgiveness."
According to an F2F press release, somebody is sexually assaulted every two minutes in America.
"One in six women will be sexually assaulted in their lifetime and one in 33 men, and half of these are 18 years old or younger," the press release states.
Describing her desire to create awareness for this issue, Trible said she hopes this event will leave students empowered to make a difference and change people's attitudes about victims of abuse as well as teach students how to handle someone approaching them with information about sexual assault.
"(This event will help) them have the tools to make a difference in the lives of someone that's wounded," Trible said. "And then, to be really encouraged when they take those kits, and they … put those kits in an ambulance – to realize they actually, tangibly, have helped transform a life … And even that very night, their box may be opened by someone else. Their box might be read by a student that's gone to the hospital or a woman that's been under domestic violence … The extraordinary thing is to see that (in) this issue, we can make a difference."
With volunteers needed, Trible said anyone interested can arrive at the Schilling Center at 3 p.m.