World missions rewarded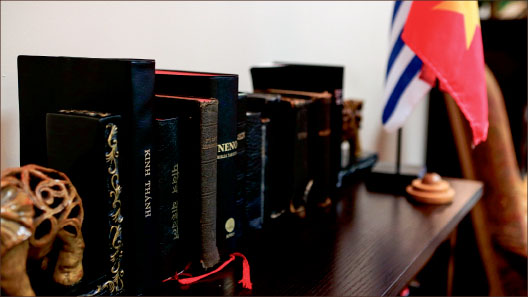 Center for Global Engagement offers tuition scholarships to missionary children
Beginning this semester, Liberty University's Center for Global Engagement will be providing a full tuition scholarship of up to $80,000 for the children of missionaries.
According to Liberty's Financial Aid website, the $80,000 of the missionary scholarship will be disbursed over the four consecutive years of the student's bachelor's degree. The scholarship was created to show Liberty's commitment to provide support for missionary families.
"About six months or so ago, we started … evaluating how we could provide for more missionary kids," Johnnie Moore, vice president for communications, said. "President Falwell and a member of the (cabinet) started evaluating different options, and we found a program that's going to help dozens of the largest missions organizations in the country provide affordable education for their children."
To qualify for the scholarship, students must be U.S. citizens and children of missionaries serving through one of Liberty's strategic missions partners, Moore explained. The scholarship covers the cost of tuition, but students are still responsible for their applications and room and board.
"We knew that we could (create the scholarship) from 10 to 12 agencies to start off, and we had already been strategically partnered with a number of agencies," Moore said. "We decided to pilot the program with our strategic partners since we already had such a close relationship with them."
According to Moore, these agencies were the ones that Liberty had worked with the most and had more graduates and internship opportunities.
"Liberty throughout the years has given various forms of aid to the children of missionaries and to the children of other people in ministry," Moore said. "Any (missionary kid) of one of these agencies whose parents are serving overseas qualifies for the program, so the (missionary kid) does not have to be themselves committed to going to the mission field."
According to Moore, some of the strategic partners actually have full-time personnel living in Lynchburg for the sole purpose of mentoring Liberty students.
"This is just one more example of Liberty's commitment to the great commission," Moore said. "I mean, no other institution of higher education in Christian history has done the types of things that Liberty is doing on a regular basis to advance the great commission, and this is kind of exhibit A. We want to help missionaries."
Another example of Liberty's assistance to missionaries is the school's Loan Forgiveness Program for graduates intending to go into the missions field, Moore explained. This program pays up to 20 percent per year of the balance of federal student loans.
"I'm grateful for President Falwell, the board of trustees for their leadership and for the employees in the Center for Global Engagement, for their constant effort to counsel students to prepare for the world," Moore said. "And I'm grateful to see what is going to happen when a generation of liberty students takes their chance to reach the world."