Hockey moves on to national tourney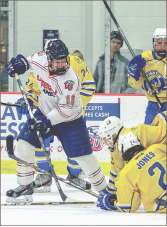 The Liberty Flames men's Division II team advanced past the Southeast Region Tournament for the first time
Liberty University's men's Division II (DII) hockey team (26-7) continued tournament play with a win over the University of Delaware Blue Hens, 4-1, in the American Collegiate Hockey Association (ACHA) regionals at LaHaye Ice Center.
Both teams aggresively began the game, taking several decent shots and getting multiple scoring opportunities. Each team responded to its opponent's scoring chance with a counterattack of its own. Delaware received an early advantage as it went on a power play only six minutes into the game. Liberty sophomore goalie Cary Byron responded by making a series of saves to keep the game tied at zero.
Tensions began to flare as Liberty sophomore Parker McIntyre and Delaware sophomore Mike Stickle began a small fight after the referees stopped play. From that point on, the hits from both teams were harder and the shots were faster. The Blue Hens counterattack continued to produce scoring chances, but Liberty made necessary defensive adjustments to negate them.
"There were a lot of blocked shots, and our (defense) is doing a pretty good job overall," Head Coach Chris Lowes said. "They had some chances, but you know, maybe the most important person on your defense, our goaltender, made some big saves when he had too."
After 14 scoreless minutes, sophomore Jeremy Miller scored his fifth goal of the season to give the Flames a 1-0 lead.
Liberty rode the momentum provided by Miller's goal, as senior Bobby Cervone's shot off a rebound found the back of the net at the 14:02 mark in the second period.
"(Byron) has had a really good year overall," Lowes said. "Tonight, he made all the saves he had to and is supposed to."
Liberty started the third period with a two-goal lead, which soon changed as Stickle scored to cut Delaware's deficit to one goal, swinging the momentum in the Blue Hens favor.
Delaware's senior goaltender Joe Marshall began to make his share of impressive saves. However, Marshall could not stop a wrist shot from freshman Ben Freymond, which was his sixth goal of the season. Approximately two minutes later at the 2:42 mark, freshman Bannon Lynott scored to give the Flames a 4-1 lead, which ultimately ended Delaware's chances at a comeback.
According to Lowes, his team was confident going into the game. The Flames defeated the Blue Hens in each of their three matchups earlier this season, scoring 15 goals while only allowing Delaware to score four. Delaware had only scored more than one goal in one of the four matchups this year.
"We are more confident because we played good in our last two games," Lowes said. "We knew (Delaware) was going to be good. We played them three times, and in one of the games, we had to come back and score a last-second goal. They had a lot of desire."
Going into the next round of regionals, Lowes still wishes to see some improvement in his team. He was impressed with its overall defense, including its penalty kill, but wants to see the power play improve.
"Our power play was kind of ugly tonight," Lowes said. "We had trouble seeing the lanes that were there for us, so we couldn't take advantage of it. I think we need to execute and finish some of our chances. We could've put some goals away early. You saw when they got their goal to get within one, you know it really changed the tone of the game."
The Flames clinched a berth in the ACHA DII National Tournament with a victory against fifth-seeded Miami (Ohio). The tournament runs from March 21-25 in Marlborough, Ma.