Students book it to the library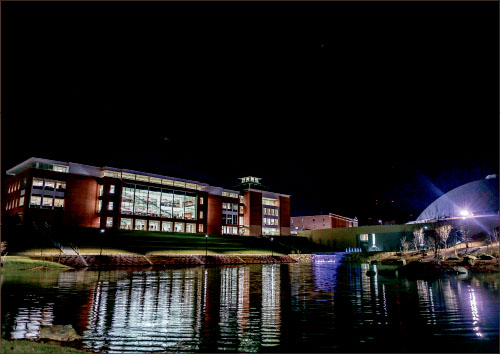 After 97 weeks of construction, the Jerry Falwell Library opens to the public
Liberty University students, faculty and guests joined in celebration Wednesday, Jan. 15 for the grand opening of the 170,000-square-foot, state-of-the-art Jerry Falwell Library.
Upon completion of the 97-week project, President Jerry Falwell, Jr. said he is happy for students to see something instead of mud. Students have been anticipating the opening of the library through social media and emails to Falwell exclaiming their excitement.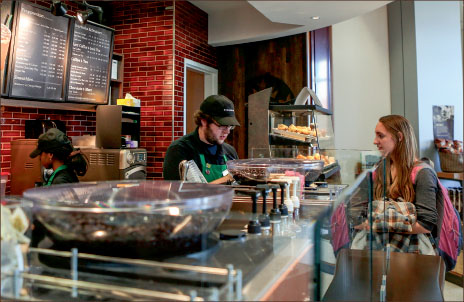 "I have had a library job since I was 6 years old, and I have never before seen students so excited about a new library," Dean of the Jerry Falwell Library Marcy Pride said. "To me, it is the most amazing thing."
According to Alicia Houston, a senior family and consumer sciences major, she was thrilled with all the elements the new library has to offer.
"Never did I think a building could bring any sort of positive or negative emotions out of me," Houston said. "But my gracious, the new Jerry Falwell Library is so breathtaking, I could almost cry. It is the perfect place for reading, studying or just hanging out with friends. Honestly though, I am so proud to call Liberty University my school."
The new library has seating for more than 2,300 students in three different sections as well as 152 public computers and 140 wireless access points, Provost Dr. Ronald Godwin explained. The library also has a one-of-a-kind, 24-by-11-foot interactive video wall.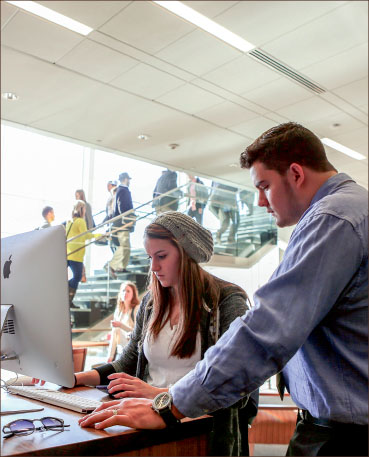 "(The wall) can simultaneously display more than 40,000 photos … made possible by three Microsoft Kinect systems," Godwin said. "It is the first application of its kind, and it allows students and faculty the privilege to display in real time university wide activities and events."
This was one of the main attractions for students who visited the library when the doors opened at 1 p.m. Students were also drawn to the robotic book retrieval system, which can hold up to 420,000 books.
"We can help students to begin to understand in ways that they may not have in the past that a library is not just about information," Pride said. "(Information) is a good thing, but it is also about imagination, inspiration and even some transformation. We are looking forward to the part that we can play in providing those kinds of environments and experiences for our students."
According to Godwin, the library has a range of activities that students can partake in, one being Tinney's Café – which includes a Starbucks, Pizza Hut Express, a French bistro and a sushi bar. Four touch-screen tables with archival access to Liberty as well as seven high collaboration rooms add to the educational experience for students.
"A lot of people look at academic libraries as an extension of a classroom, and so here we have an active learning classroom that will allow students and professors to interact in ways that they have not been able to do in the past," Pride said.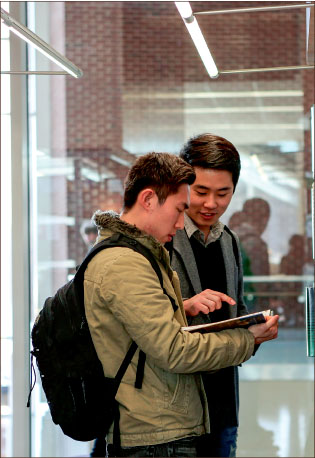 VMDO Architects, a firm from Charlottesville, Va., designed the library to have a Jeffersonian flair with more than 8,000 square feet of interior and exterior glass in order for the building to be filled with natural light and scenic views, according to Falwell.
"When you look at our campus, it won't look like (the University of Virginia) —­ it will look like a state-of-the-art university that reflects Jeffersonian influences,"
Falwell said.
Liberty held a student body prayer meeting 37 years ago when Liberty Mountain was nothing but the remnants of an old dairy farm, Falwell explained.
"(In) those days there were no school buildings here," Falwell said. "The student body was praying for something that seemed almost impossible — a new campus, dorms, classrooms, dining halls, a permanent home for Liberty."
Now, Liberty is proud to have all of those things with the library as the centerpiece of the $500 million campus reconstruction, Falwell said.
"It is sort of symbolic, a centerpiece, the first and most important of all the academic buildings," Falwell said. "This is the turning point of Liberty."