Google identifies most-searched schools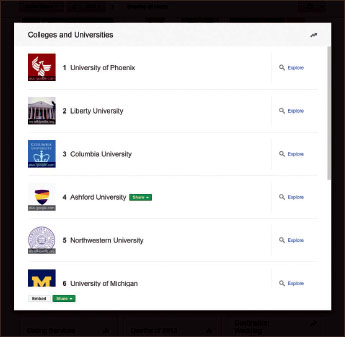 Liberty places second after University of Phoenix in a list of America's top trending colleges and universities
Google named Liberty University the second-most searched university of 2013 on its list of top trending universities and colleges.
According to Google.com, these trending schools have had the largest increase in search volume since 2012.
"We have been blessed with a lot of talented individuals who are very focused on optimizing our site for search engines such as Google," Liberty's Chief Information Officer Matthew Zealand said. "Liberty University has been and is a very fast- growing, highly sought-after school."
Rated first on the list is University of Phoenix, founded in 1976, according to the Liberty University Online's (LUO) website. LUO currently has more than 90,000 students, according to Liberty.edu.
Google shows that searches for Liberty took place mostly along the Southeast Coast of the United States. The three states with the most regional interest were Virginia, West Virginia and North Carolina.
Senior Emily Canfield looked up Liberty online while in high school. As a result, she said she attended Liberty and now plans to graduate May 2014.
This is the first year that Liberty has appeared on Google's list of trending universities. Junior Morgan Mason said she believes Liberty is on the list because of all the successful people that have come from Liberty in the past 40 years.
Previously, Google's list of top trending colleges and universities has included prestigious universities — Harvard University, Stanford University and
Yale University.
According to Zealand, he believes people have become interested in Liberty because of its commitment to train champions for Christ. He also said Liberty's "flexible, robust and affordable online learning platform" attracts attention in addition to student activities such as Snowflex and the LaHaye Ice Center.
"Liberty provides students with all the support needed to excel academically, spiritually and socially," Zealand said. "(Liberty) will continue to allow us to impact the world for Christ in greater ways."
"When you have law school, school of engineering and medical school, that gives you a very large footprint as an institution of higher education," associate professor of English Dr. Paul Müller said.
According to Müller, most universities in the United States are liberal leaning, and Liberty's growing prominence will help the "right voice" to be heard.