Shutting out the competition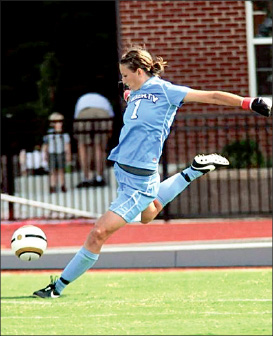 Liberty goalie Holly Van Noord set a Lady Flames record with 14 shutouts in her redshirt freshman season
When the Liberty University Lady Flames soccer team won the Big South Championship Sunday, Nov. 10, redshirt freshman goalkeeper Holly Van Noord was the target of the enthusiastic rush to storm the field by her teammates. Competitive and confident, she played a key role in leading the Lady Flames to victory.
With a Liberty single-season record of 14 shutouts during the course of the 2013 season, it is no surprise that the 20-year-old has quickly become an integral part of a team poised to be at the top of the Big South Conference for the next few years.
Born and raised in Hudsonville, Mich., Van Noord was a three-sport high school athlete before joining the Lady Flames soccer team in 2012.
Besides soccer, Van Noord also played volleyball and basketball in high school, describing herself as someone who has had a competitive nature as far back as she could remember.
"I hated playing soccer when I was a kid, because I wanted to play with the boys and I wanted better competition, instead of girls who (were) sitting there picking daisies," Van Noord said.
Unlike many soccer players who have played on the collegiate level, Van Noord did not play club sports, which consist of travel teams that help athletes to be recruited, before arriving at Liberty, with the exception of a short time during sixth grade.
"I did not know what I was going to play in college," Van Noord said. "I knew I wanted to play a sport. I didn't know which one yet, so I didn't want to dedicate my life to club soccer."
Van Noord played at the forward position until high school when a goalkeeping position opened up. She decided to try it out on a whim and found that she both enjoyed and excelled in her new position, receiving awards and setting several records, including the Michigan record for high school shutouts in a single year with 24 as a junior.
"All throughout high school, we had a very successful (soccer) team," Van Noord said.
In deciding what she wanted to play in college, Van Noord had to choose between playing soccer and being a single-sport athlete, or going to a smaller school and playing basketball in addition to soccer.
While not playing club soccer allowed her to have a wider variety of high school experiences, it also made it more difficult for her to be recruited. Van Noord explained that most major colleges would choose to recruit from club soccer teams rather than high school teams. Although Van Noord received scholarship offers, they were mostly from smaller Naional Association of Intercollegiate Athletics (NAIA) schools.
In order to have a chance to play at an NCAA Division I school, she had to attend soccer camps at different colleges, including Liberty, to give coaches and scouts a chance to see her play. While Liberty had already made an offer to another goalkeeper, circumstances aligned to give Van Noord a chance to play for Liberty.
"After everything, you kind of see God working in my life and (at Liberty), because that goalkeeper didn't go to Liberty, obviously, so then the position opened again," Van Noord said.
Van Noord saw Liberty as her best option, and she accepted the scholarship offer to play starting in the 2012 season.
"After I visited Liberty … it was pretty obvious that I wanted to be here, because the biggest thing I wanted was a Christian school," Van Noord said "I loved the campus, I loved the mission. I loved everything about (Liberty)."
However, she did not get a chance to start, or even play in any games, in her first season. In 2012, Van Noord was given redshirt status to extend the length of her scholarship and to give her a chance to adjust to collegiate-level soccer.
"It was hard at first, but during the season I accepted it," Van Noord said.
According to the NCAA, players who are redshirting cannot play any games, but they are still allowed to practice and train with the team. Van Noord made full use of the opportunity to improve her skillset, focusing on technique work, which had not been a large part of her high school experience.
"Coming in, I didn't have any goalkeeping techniques, which was my biggest flaw," Van Noord said. "All last year, it was like learning a whole new sport for me."
After sitting out one season, Van Noord earned a spot as the starting goalkeeper and helped lead the Lady Flames to a 16-4-1 record and a Big South Championship while recording 14 shutouts and a .871 save percentage om 2013.
"I've been really fortunate to have the opportunity to play with this team," Van Noord said. "I give them all the credit, because without them, who knows what this season would look like. My defense is so amazing, and I'm so confident in them. They deserve just as much credit as I do."
Van Noord was also named to the Second Team All-Conference as well as the All-Conference Freshman Team for her play during the regular season.
Despite all of her success in the net, there is one part of goalkeeping she does not enjoy.
"I don't like getting scored on," Van Noord said.
During her first season, it was an event she only had to experience 13 times in 21 games. But if this season was an indicator, she will continue to keep goals from reaching the back of her net as she continues her remaining three years of eligibility at Liberty.