Kyle Adams
Kyle Adams worked a few odd jobs before he became the public relations officer for the Humanitarian International Services Group (HISG).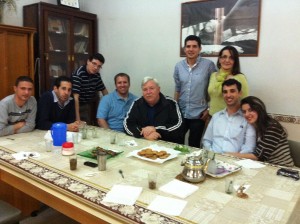 "One of the jobs I had to manage a baseball field, and then that lead me to a job taking care of a golf course in Colorado Springs," Adams said. "It wasn't particularly fulfilling though, it wasn't what I really wanted to do."
But then he met the owners of the Humanitarian International Services Group and finally found what he was called to do, Adams said.
"I like the work we do, and I think it's meaningful," Adams said. "We do disaster relief and community development and job creation, and I think that what we do makes a lasting difference."
Adams writes the copy for his company's website along with various other copy writing such as the company's newsletters. He also writes updates about the various projects that HISG is involved in.
"What I do is follow up with the projects with the local project managers in Kenya or Pakistan or Haiti or wherever we're doing the projects," Adams said. "I touch base with them, and I find out what's going good for them… I report and interview them on what their project is, and how it's making a difference, and tell that story."
Adams says that his work sometimes allows him to visit projects firsthand, to see the impact that HISG is making, and he is no stranger to travel, as he often had to move houses when he was growing up.
"I'm a military kid so we moved around a lot," Adams said. "For my dad, (being in the military) meant that he had to move around every three years."
Although his family was frequently uprooted during his childhood, Adams said that he respected his father, who was an air force pilot.
"A lot of people in his position have traded their families for their careers in a sense, but he's always put family first in a really demanding job," Adams said. "The older I get, the more respect I have for the family man he was."
The hectic pace of their travels did not stop the young Adams from doing what any other young man at his age would do. Adams was involved with his school's athletics programs, playing on the varsity teams for basketball and soccer.
His involvement in sports developed into an interest in becoming a sports writer, and Adams enrolled in Liberty University's communications program after he graduated from high school.
"I think I really grew a lot at my time at Liberty University, and I think the professors were a big part of that," Adams said. "When you were in the classes you weren't just learning about the subject matter, but you were also learning about life as well."
It was also at Liberty that Adams realized he did not feel called to go into sport writing.
"I got to work at a newspaper — as I always pictured myself doing — and I started to realize maybe this wasn't where I wanted to go," Adams said. "It didn't help launch me into my career, but it did help me sort out what I wanted to do with my career."
After graduation, Adams returned to Colorado, where he worked a few odd jobs until he became the public relations manager at HISG.
Working for a humanitarian relief organization, Adams has had the opportunity to visit project sites all over the world.
"I've travelled to Indonesia, Yemen, Algeria, and Africa with my job," Adams said. "I've seen some of the work we do, and I'm always humbled by it."
According to Adams, one memorable event that he experienced on the job was when he in raised funds for people in Somalia and Kenya in the winter 2011.
"There was a famine, and there wasn't a lot of food available," Adams said. "We managed to get some food to them, and that was a very memorable project for me."
Another event that Adams remembers vividly was when he observed the poor living conditions in Subaya, Indonesia.
"One of the places we visited there was an insane asylum. It wasn't much of a hospital, but just a place to get people out of the way, and it was filthy," Adams said.
"The patients were so thankful for people that come in there to shake hands with them. I didn't have anything to give them, but at the very least, we cared about their situation."
Outside of work, Adams says that he loves the outdoors and enjoys playing sports like soccer and basketball.