From game manager to playmaker
Redshirt sophomore quarterback Josh Woodrum has transformed his game to become a leader this season
While sitting in his living room at home, Josh Woodrum's dad asked him if he was ready for his first varsity start. Little did Woodrum know, the start would be just the beginning of a successful football career that still is in the making.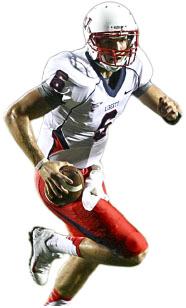 "When I got to middle school, I saw all these people in high school, and I (thought) 'Man, I really want to go play college football,'" Woodrum said.
Woodrum graduated from Cave Spring High School in Roanoke, Va., in the spring of 2011. Although he had offers from several schools such as Duke, Wake Forest, University of Connecticut and Vanderbilt University, none seemed to stick out like Liberty did.
"I just kind of fell in love with it," Woodrum said. "It felt like home more than anything. Then I committed here, and it's been going good ever since."
After sharing time with quarterback Brian Hudson for the two games of the season, the 210-pound quarterback won the battle for the position and started his first collegiate game at Montana Sept. 15, 2012. Woodrum threw for 322 yards with two touchdowns on 34-44 passing.
"(I) couldn't have asked for a better place to have a start and kind of go up from there," Woodrum said. "And Gardner-Webb obviously was the best game I have ever had as a player in college."
Woodrum recorded 373 passing yards (25-31) and threw for three touchdowns against Gardner-Webb Oct. 6, 2012.
As a redshirt freshman in 2012, Woodrum set a program record for freshmen with 1,963 total yards and also led the Big South Conference in pass completion percentage.
Woodrum explained that last year his main purpose was to be a game manager more than anything. This year, he has bigger goals — he wants to be more of a playmaker.
"Last year, (Head) Coach (Turner) Gill put me in a position where I could execute short throws, get us first downs and just manage the game," Woodrum said. "But this year, I want to get the deep throws and the intermediate throws. My goals are just to be one of the offensive playmakers — not so much just someone who is just consistent … but more of a threat through the air at every game."
When asked about the 2013 season, Woodrum said that Old Dominion University will be a tough matchup. He also explained the importance of a win against Coastal Carolina University as a precursor to a Big South Championship.
Woodrum went on to express how important it is for students and fans to support the Flames.
"In my mind, having the students here is tremendous," Woodrum said. "It gives us encouragement and makes us want to come out here and have a good game and please the crowd. Overall, we couldn't ask for a better home-field advantage."
Gill commended Woodrum on his leadership skills on and off the field.
"If your quarterback has the leadership skills, he is going to raise the bar for everyone around him," Gill said. "He is a tremendous asset."
With time for growth and improvement, Woodrum is looking forward to building a résumé that NFL scouts will ponder over the next three years.
"Hopefully I have a good season this year and build from there as far as my junior and senior campaigns go," Woodrum said. "Obviously the NFL is in my dreams and aspirations, so hopefully that will work out."
From sitting in the living room to playing in his first collegiate game and hopefully one day playing in the NFL, Woodrum is making his dreams come true
everyday.
"We thank God for (Woodrum) being here at Liberty University," Gill said.