Abby Armbruster
Every two months, Abby Armbruster(2010) writes a profile about an individual in the Wayne County, Ohio community.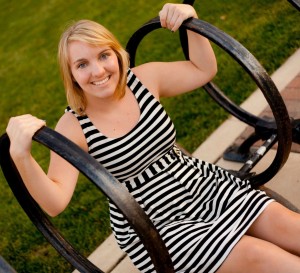 "We can write about a teacher or a principal or someone else," Armbruster said. "It's really interesting to hear what people do, and I get to meet a lot of people around the county. Those are fun to write."
Armbruster is a news reporter for The Daily Record, covering over 10 different villages in Wayne County, Ohio. Her articles range from religion to business and are published daily in the newspaper.
"Most of my reporting is on council meetings," she said. "I'll go to the village board meetings or trustee school meetings, so it's not the most exciting thing, but that's my job."
Her career as a reporter is the result of many years of experience writing for a publication.
"I've always been involved in writing," Armbruster said. "In high school, we had a really strong newspaper program, and I was on that for three years."
Armbruster showed her qualities as a budding journalist during her time at her high school newspaper, when she went from staff writer to editor to senior copy editor.
"I was hoping to get co-editor in chief," she said. "But I just ended up being a senior copy editor, and it was great."
After she graduated from high school, Armbruster came to Liberty University to continue her growth as a journalist. Her education at Liberty has prepared her for her job as a reporter, especially her classes with communications professor Deborah Huff, Armbruster said.
"Mrs. Huff was one of the best professors I had there, and I loved every class with her," she said. "Her investigative reporting class was so frustrating to do at the time, but that (class) especially geared me to do the stuff that I do now."
She was also involved with the Liberty Champion, where she was the opinion editor.
"It's funny, because now I'm just writing hard news articles," Armbruster said. "But somehow, I've become a good news writer, and it's crazy to think that now I write 10 articles a week."
Her career keeps her rushing around Wayne County most of the time. Through the process of interviewing various residents of Wooster, she has gained a lot of friends, Armbruster said.
"They all know me by name, and I have their cellphone numbers," Armbruster said. "It's just crazy to think that I just get a call from someone in the nearest town, and a few minutes later, I'm calling people and saying, 'Hey, it's Abby from The Daily Record. How are you?' It's neat to see how that's changed."
According to Armbruster, the experience of being a local reporter has given her opportunities to feature a lot of interesting people for The Daily Record.
"Today even, one of my high school buddies is now working with survivors from Hurricane Isaac," Armbruster said. "She's also been working for the past eight months on rebuilding houses from (Hurricane) Katrina."
She also tracked the owner of an elusive Twitter account called "Wayne County Problems" in fall 2012.
"The county is very small. There's a Wal-Mart that everyone goes to hangout after football games, and the twitter account jokes about how crowded it is and how many Amish people are here," Armbruster said.
Though the Twitter account has gained popularity among the Wayne County residents, the author is shrouded in mystery.
"I've done two different stories about who it can be," Armbruster said. "That's just my fun project."