Project Hollywood hits the runway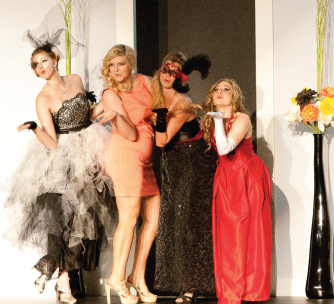 Lights. Camera. Action. Models took to the runway Saturday night, April 13, at the seventh annual fashion show sponsored by Liberty University's Family and Consumer Sciences (FACS) Department.
The garments were inspired by classic Hollywood movies and were designed and modeled by Liberty students, according to Ruth Bibby, the director of the show and a senior at Liberty. A team of 15 designers chose the theme, color, style and costumes to base their designs.
"Each person has a different movie, so it is under one umbrella, Project Hollywood, which means we'll have a whole variety of looks, models and garments on the runway," Bibby said.
The movies chosen as inspiration ranged from old classics like "Casablanca" to newer movies like "Pirates of the Caribbean."
Erin Cumbia, a senior fashion merchandising major, decided to base her collection on "My Fair Lady." According to Cumbia, she looked at the femininity, unique costumes and colors to get ideas for her designs.
"I love the movie. I used to watch it all the time with my grandma," Cumbia said. "I love the mixture between hard and soft. I used a lot of chiffon in this collection. It is really light and airy and just kind of flies."
A crowd of people lined up outside of the Shilling Center with tickets in hand, waiting for the doors to open. Anticipation rose as the audience began to fill the seats with jittery excitement.
Then it was time. Bibby came onto the stage to welcome everyone and introduce the judges before the show's beginning. After a couple of door prizes were given out, the models took to the runway.
"I'm friends with the model that came out first, Katelyn Diehl," junior Lena Wakim said. "I am just so proud of her, because she rocked it."
Diehl came onto the runway wearing "Pirates of the Caribbean" garments designed by Hannah Lynch.
The designs ranged from evening gowns, cocktail dresses and suits to even more different costume designs. Some designers focused on capturing iconic elements in their collections, like R2-D2 of "Star Wars" or Dorothy, the Lion and the Tin Man from the "Wizard of Oz." Other designers concentrated on contrasting elements such as good Sandy versus bad Sandy in "Grease."
"I thought the show was fantastic," freshman Abby Cockrell said. "It looked like all the designers put together some really good pieces, and it was incredible to think that people from Liberty, who are students here, actually made those. All the designs were beautiful."
There was a short intermission for the judges to choose the winners as the audience walked around the room, eating the provided snacks and looking at the designers' fashion boards.
After intermission, the winners were announced. Designers Lynch of "Pirates of the Caribbean" and Cumbia of "My Fair Lady" stole the show. Lynch won Best use of Texture, Best Theme Inspiration and first runner up in the competition. Cumbia took home the prizes for Best Overall, Designers' Choice and Best in Show.
"It is a little bit surreal," Cumbia said. "I have to let it sink in. It is such a blessing and an honor to be one of the people that have won this."
Cumbia designed a two-piece white and black skirt suit, a ruffle one-strap cocktail dress, a satin plum evening gown with gem work and a satin and chiffon cream evening gown.
"I understand why Erin Cumbia won all of those awards, because it looked like she put so much time and effort into it," Wakim said. "They were so intricately designed. They were beautiful. One thing that I really loved is that she made her own dress and matched her own models."
According to Cumbia, the fashion show is a fantastic opportunity and experience for FACS majors. In the future, she hopes to get involved in bridal fashion and some day design her own collection of wedding gowns.
The people on stage began to get teary-eyed at the end of the show as Bibby thanked everyone who helped out and came to watch. According to Bibby, she has been involved in the fashion show for the past four years, and this is her last one.
"If I could have any job in the world, I would be a runway coordinator," Bibby said. "I would love, love, love to do that."
According to Bibby, she has been planning this fashion show since last August, and she is both happy and sad for it all to be over.