'Faces of Africa' shines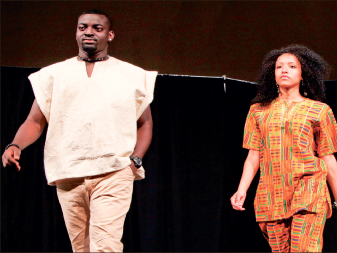 A crowd of students cheered as models made their way onto the stage, strutting down the runway before posing with the colors of different countries' flags mixed behind them. Hosted by the Association of Students of African Descent (A.S.A.D.), the "Faces of Africa" fashion show debuted April 20 in Towns-Alumni Auditorium.
According to Liberty University's A.S.A.D. fashion coordinator Keith Jones-Nwankwo, the show promoted African culture, presenting it in a way that enabled each Liberty student to be involved, regardless of descent.
"Everybody's equal — we just have different cultures and traditions," Jones-Nwankwo said.
Performers from different nationalities represented the show through song and dance, such as the Tanzanian group — known as the J'Sisters Gospel Group — rapper SiMplY KenDall and D-Trex, a Liberty dance team.
The show concluded with an autism presentation from Samantha McFarland, a guest speaker from the Blue Ridge Autism and Achievement Center.
"This (event) showcases what African students can bring to the university," founder of A.S.A.D. Yaw Adu-Gyamfi said.
The designs presented throughout the night were brought to Liberty through local vendors who acquired the prints from overseas. Tanzania, Ghana, Nigeria and Kenya were some of the countries whose authentic attire was shown, according to Jones-Nwankwo.
"It was nice being able to show that other nations do exist," Liberty model Janitca Santana said. "We're all the same in a way."
Santana also said that working with so many different cultures promoted a sense of unity backstage as the models and performers prepared for the night.
The clothing displayed throughout the event was available for purchase, with proceeds benefiting each vendor. Authentic African attire was also for sale, along with accessories and homemade items from different countries.
"It's not just something for people of African descent, but all people," Adu-Gyamfi said. "Anybody is welcome to join."
McFarland gave a presentation about autism, giving facts and explaining how they can get involved.
"They brought something to everyone through fashion and culture, then (added) in autism awareness," D-trex member Alisha Clark said.
During one dance the models displayed the autism symbol throughout in an effort to promote the cause in a creative way.
After the show, attendants were offered African food and the chance to meet the performers and models of the night.
"A lot of people, when they hear A.S.A.D., they automatically assume that it's just organized strictly for Africans, like there is a boundary just for Africans, but there's not," Jones-Nwankwo said.
"It's basically to inform the Liberty community about what Africa is — the values and beliefs."
Including the "Faces of Africa" fashion show, A.S.A.D. has many different events for students to attend.
"Every year, we will be hosting all kinds of events, from soccer tournaments to cookouts and different revved up events, to get more involvement from the Liberty community within A.S.A.D.," Jones-Nwankwo said.
Ticket proceeds from the night benefit A.S.A.D. and bring scholarships to a few chosen student members each year. According to Jones-Nwankwo, A.S.A.D. wishes to thank all who came to support the show and remind them that every culture is welcome to join future events.