Digital media students attend conference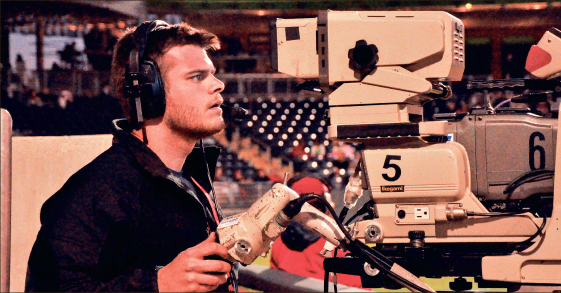 Matt Atkins and Courtney Aube utilized cutting-edge technology at Sony's NAB Student Experience
While their classmates worked on projects and papers at school, Liberty University digital media students Matt Atkins and Courtney Aube received a different kind of education at the National Association of Broadcasters (NAB) Conference in Las Vegas.
Atkins and Aube participated in Sony's NAB Student Experience April 6-11, where they were trained to handle some of the company's newest digital media and broadcasting equipment. Once the conference began, the two worked at booths alongside 49 students from colleges across the country as they were given the chance to demonstrate the technology from their area of interest to media professionals at Sony's booth.
Aube, a Liberty senior who previously worked on "Around Liberty in 90 Seconds" and currently works for Liberty's radio station, 90.9 The Light, spent most of the conference learning about and demonstrating Sony audio equipment.
"I never expected to learn and remember as much as I did," Aube said. "I was trained by the senior product manager of professional audio, who was extremely knowledgeable."
According to Aube, her booth included equipment that she was somewhat familiar with before coming to Las Vegas, such as wireless microphone systems, recorders, lavalier microphones, shotgun microphones and headphones. Atkins, on the other hand, worked with technology that can be used for the type of work he loves most — live broadcasts.
Atkins learned and then demonstrated shooting a live broadcast in 4K format. According to Atkins, to put it in perspective, high definition television is shot in 2K. To produce a 4K image, two images shot side-by-side are stitched together by a computer in order to create a substantially higher resolution image.
"Since it's really high definition, you can crop," Atkins said. "Have you ever cropped a photograph, and it just loses quality right away? You can crop four times, and it won't lose any quality, so the potential for replay to zoom in that far and not lose any quality is immense."
Even though Atkins and Aube got the chance to briefly explore the area, Atkins said that if he was given all six days of the conference to see as much technology as he could, it would still be impossible to see everything.
"You don't realize how big it is," Atkins said. "The floor size of the whole thing was probably upwards of 10 football fields, and there's hundreds and hundreds of vendors. They have an app where you can type in what booths you have to see, and it plans the route for you. Just taking in the enormity of everything was kind of overwhelming."
Both Liberty students said that exhaustion set in from working 6 a.m. to 6 p.m. every day, but Atkins and Aube still made time for a little fun. They walked around Las Vegas, saw the fountains at the Bellagio Hotel and Casino and watched college basketball on television.
However, Atkins and Aube also took the time to build relationships and learn from other students in the Sony program.
"The other students were great," Aube said. "We talked about our different schools' programs and about what type of equipment each school uses. We are now all able to stay connected through LinkedIn."
According to Atkins, he gained a new appreciation for people who work in other areas of his field.
"I discovered that film gets written off a lot, and people say, 'Aw, that's easy,'" Atkins said. "I worked with a lot of film people, and there's a lot more that goes into it than people think. I just had a new respect for the intensity and the skill that you have to have in order to pull off film."
For Atkins, one of the most exciting parts of the whole experience was having the chance to learn about some of the equipment that Liberty will buy during the course of its campus-wide upgrade to high definition broadcasting.
In the end, Atkins and Aube returned to Lynchburg having gained valuable experience.
"The trip was amazing — one of the neatest things I have ever experienced," Aube said. "I feel so blessed that I was able to be a part of this opportunity, and I would go back and do it all again tomorrow if I could."