LU student continues quest for NASCAR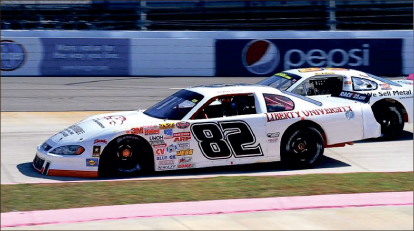 Stephen Berry survives wreck-filled race to finish 13th in the Virginia Is For Racing Lovers 300
Liberty University student Stephen Berry has always lived life in the fast lane. He knew back when he was 14, when he started racing go carts professionally, that he was headed for a high-octane future. That future now includes a racing career in the late-model stock car racing circuit.
After an impressive performance at one of the biggest races on the stock car racing circuit — the Virginia Is For Racing Lovers 300, Oct. 21 — Berry is looking to continue his dream of reaching the ultimate goal of all competitive drivers: NASCAR.
Berry finished in 13th place in the race that is considered the "Daytona 500 of the series," his highest finish in a late-model race featuring its standard amount of 80 drivers fighting to qualify. Late-model racing serves as a minor league of sorts for NASCAR, so the every-man-for-himself mentality creates a highly competitive racing atmosphere. Of the 42 cars that started the race, Berry was one of only 23 that finished.
"It was one of the craziest races I've ever been at," Berry said. "Drivers were beating and banging. Drivers were going three wide. It was wild."
Berry's high finish is especially impressive when you consider the odds stacked against him. On just the fifth lap of the race, a wreck in the group of cars in front of Berry knocked out his right front tire's suspension and altered his car's alignment.
"The car was pushing because of the alignment issue," Berry said. "The bad thing about my car after the crash was that I had to use a lot more brakes to hold the car steady during the turn, so my right front tire was getting worn out, so it was working the brakes hard. It definitely tested me as a driver."
The fight for funding
Berry also had to fight against an obstacle that hindered him before he even entered the car. Lacking the necessary sponsorship to compete on a regular basis, October's race marked the first time since July 2011 that Berry had been in a racecar.
Berry estimated that running a competitive team for the stock car series would require around $150,000 per year, and for his team so far, the dollars just have not been there.
"We just haven't had any money. I have had several top-of-the-line teams say that they want me to come drive for them if I could just get good sponsorship," Berry said.
Currently, Liberty is one of Berry's biggest supporters, funding him since 2007, Berry's first year at Liberty. During his races, Berry's car is adorned with the Liberty's name. Berry first presented the idea to Jerry Falwell Sr., who immediately signed on to help out.
"He loved the idea. One of the last times I saw him was during the homecoming parade that year, which he let me drive my racecar in. He came up to me afterward and told me that the crowd loved it," Berry said. "He was a very genuine and unique guy."
While Liberty's support has been crucial in Berry's success, more funding is needed for his team to reach the next level. Several universities have started NASCAR-focused programs for students. Clemson University has gone a step further, with students forming a class with the specific purpose of raising funds for driver Mike Wallace, who participates in the Nationwide Series, the level directly below NASCAR.
The students at Clemson are getting sponsored by alumni, and making contact with other prospective clients in the local area in hopes of fully funding Wallace's team.
"We put on a great show for Liberty at the race," Barry said. "I think if I was in the racecar full time and had supporters from Liberty, such as donations from alumni, it would be great. NASCAR is getting huge, and schools want to participate. I think it's cool Liberty is already trying to do the same thing as well."
Moving up
Berry is now looking to the future and searching for ways to reach the upper echelon of racing. He has set his sights on joining NASCAR's Truck Series, where many prominent NASCAR Cup drivers, such as Carl Edwards, Kevin Harvick and Mark Martin, first gained public recognition. Berry has also had conversations with representatives from series powerhouse Kyle Busch Motorsports in hopes of joining the team in the next few years.
"They are one of the premier truck series teams. They like me and I like them," Berry said.
Still, Berry hearkened back to the fact that joining an upper-level program inevitably means more need for funds. More than any other sports league, NASCAR teams are driven by the donations of sponsors, and financial support must be attained before a deal can be reached with teams.
"It's all about getting that money to pay for the team and the equipment," Berry said. "Everything that goes into that — tires, breaks — it's expensive. So, we're going to try to talk to Liberty and see if we can make a deal to race full time for the championship next year."
Despite funding being hit-and-miss, Berry's passion and dedication to the sport is unchanging.
"People have said I have a natural overall talent," Berry said. "I love being out of control. You're literally going as fast as you can the whole race, within inches of each other, beating and banging. It's a huge adrenaline rush. I'm just trying to make it into the big leagues and make my dream my career."I'm just trying to make it into the big leagues and make my dream my career."