Faculty helps with Titanic research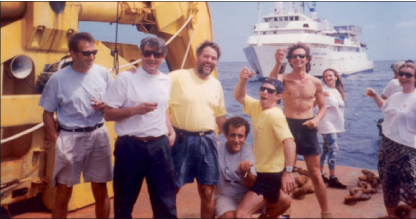 A tragedy at sea stole a nation's heart 100 years ago, and for decades to come, curiosity filled conversations on the topic. When the 1997 film was introduced, even more people became captivated by the mystery of the "unsinkable" ship.
Liberty University has its own connection to the tale with Executive Director of New Media Communications Bruce Braun. Braun was part of an excavation trip in 1996 to take a look at the Titanic's sunken grave.
"You are often surprised with what jobs you will get sent on and how it will end up influencing you. At the time, I saw it as another job, and got more interested as I went along. I've only been at sea on a cruise ship," Braun said. "I was in a 250-foot vessel. The weather during the trip was incredibly hard to work with. We actually ended up getting caught in the end of a hurricane with huge 25-foot waves."
On the voyage, Braun worked solely with the computers and technology on the ship. Braun got the job opportunity while he was working with Classic World Wide Productions. He was sent to do the video content from the expedition. What Braun observed and worked on was featured in several documentaries that became broadcasted to cruise ships. Their footage showed the whole process of Titanic's accident and what specifically went wrong.
"In Cameron's film, there is a huge dramatic scene of the ship completely breaking in half at a 45-degree angle. We learned that the ship actually only broke at 11 degrees. It sunk in two and a half hours. The ship was supposed to be able to have at least three or four cabins flood for the ship to still be stable. We ended up doing a study on the metal of the ship and discovered that when metal is in cool temperatures like the Atlantic was, it becomes incredibly brittle. It's found that the alloys become more like a sponge material and make the metal more breakable. We did sonar under the ocean to see the floor and found that there were numerous little gashes throughout the haul of the ship," Braun said.
In the 70s, Braun worked in Hollywood for several years as a producer and then moved to Florida. Later, Jerry Falwell Sr. called to offer Braun a position for TV operations, but he declined and went back to Florida. It was not until 1978 that Braun finally accepted Falwell's second job offer and stayed with the organization until 1984. Three years ago, the chancellor asked him to come back on again with Liberty to work with media.
Many opportunities have been offered to Braun, and he has had many experiences during his filming career, but the Titanic voyage was one of the richest experiences of his life.
"I've been astounded at how much interest has been on the accident that happened 100 years ago. It happened at the age of a technological boom with many famous passengers on board. There is still a lot of mystery to why it sunk even though it was claimed to be 'unsinkable,'" Braun said.