Eighty years dedicated to God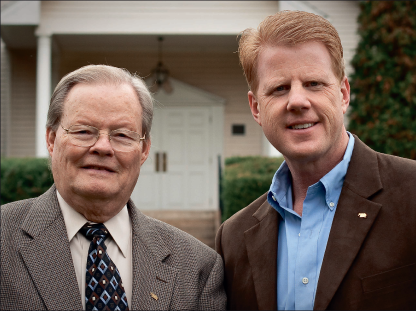 Bible guide author and Liberty professor prepares to celebrate birthday
Dr. Harold Willmington has spent half of his life at Liberty University. Turning 80 this week, Willmington has been with Liberty since the second year after its inception and his impact on the university has inspired many students over the years.
Willmington is a man of many occupations, including pastor, author, teacher, dean and visiting professor, according to his biographical information.
His work as an author began many years prior to the release of his first book—before he had considered writing a book.
"I decided when I entered the ministry that I really needed to be able to think my way through the Bible," Willmington said.
To learn more about the Word of God, he gathered 66 sheets of paper and dedicated one to each book of the Bible. On each page he wrote everything that he thought that he, as a pastor, needed to know about each specific book. After finishing the Bible, he created 12 sheets of paper dedicated to the great doctrines, according to Willmington.
"When I finished, I had 78 pages of world famous information," Willmington said.
What became the basis for "Willmington's Guide to the Bible" was taken from those sheets.
He has written 20 books beginning in 1974 with "The King is Coming" and continuing through this year. His most recent book is "What the Bible says About the Trinity." The back of this book describes it as being "one in a series of 'basic Biblical beliefs' which have been held by both Liberty University and Thomas Road Baptist Church (TRBC) from their very beginning."
This book discusses "finger tip facts" such as angels, Satan and the Holy Spirit, according to Willmington.
In February 1972, Dr. Jerry Falwell canceled a week of classes so that students could listen to Willmington teach about the life of Christ. This was his first visit to the campus, according to Willmington.
He was offered a position at the school which he initially declined upon his belief that he was called to be a preacher. It took him between three and four months of praying to determine that this was the Lord's calling for his life and not just an opportunity, according to Willmington.
"In June (of that year), my wife and I and Matt, my son who is now the associate pastor of ministry development and family ministries at TRBC, and our dog drove down," Willmington said.
During his first few years at Liberty, he was able to begin the Liberty Home Bible Institute, now known as the Willmington School of the Bible. Since 1976, over 102,000 students have signed up to be a part of this institute. These students have come from all 50 states and 40 different countries over the years, according to Willmington.
Even amid all of his accomplishments, Willmington does not take credit for how far he has come. He believes that the true hero is his wife, Sue Willmington.
Sue Willmington took on the deaf ministries at TRBC in 1972 when their family arrived in Lynchburg.
"For years I was known as the husband of the deaf interpreter," Harold Willmington said.
The Willmingtons will have been married for 51 years in the beginning of April. Together they have three grandchildren, Nathan, Carissa and Abigail, all of whom are involved with Liberty University or Liberty Christian Academy in one way or another, according to Harold Willmington.
Harold Willmington is always looking for ways to invest in the students of Liberty University. He loves interacting with students and learning more about each one as an individual.
His advice to students is that they seek the Lord by not only reading but also heeding the instructions in the Bible. In doing this, students have no reason to worry about their futures.
"We don't know what the future holds, but we know who holds the future," Harold Willmington said.
The impact that he has had on the Liberty community reaches not only students, but faculty as well. Eva Middleton, his administrative assistant, describes him as a humble, kind and generous man with a great sense of humor.
"It's been my privilege to work for him, and I mean that sincerely," Middleton said. "He walks the talk. I've learned so much from him."