Spc. Aaron Sterling: Leaving history behind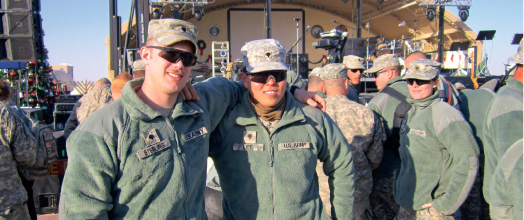 Spc. Aaron Sterling, an advertising/public relations major at Liberty University, recently returned from his first deployment with the Army National Guard. Sterling deployed to Iraq on July 28 from Camp Atterbury, Ind., serving until the end of the war in December.
Transitioning from a humid Lynchburg summer to the scorching deserts of Iraq shocked Sterling and the other soldiers of the 29th Infantry Division. Stepping off the plane at midnight, the troops were hit with a blast of 100-degree air. Later, temperatures occasionally reached 130 degrees.
"It sucks the life out of you," Sterling said. "It's like standing in front of a blast furnace or something."
As a part of the Headquarters and Headquarters Troop (HHT), Sterling was a radio telephone operator in the task force's tactical operations center. His job was to monitor friendly troops out on missions and act as a dispatcher when incidents occurred like improvised explosive device (IED) explosions.
"Our task force was really blessed while we were over there — the enemy didn't inflict any KIA (killed in action) on us," Sterling said. "I think we had a couple minor casualties, but that was about it."
As for the end of the war, Sterling felt that it was time for the U.S. to withdraw.
"I didn't think there was anything else we could do over there," he said. "The people still need a lot of help, though. They're still blowing each other up, and 90 percent of the munitions coming into the country — both to blow us up and Iraqi citizens — were coming from Iran."
Sterling said Iranian munitions were a daily threat. While most Iraqi roads required clearance by explosive ordinance disposal (EOD) teams each morning, one notorious highway had to be cleared every single time a convoy needed to travel it. The road stretched all the way to the Iran-Iraq border, and Sterling said militants and IEDs entered the country there.
"Whether the Iranians will take responsibility for it or not, they were responsible for the deaths of American soldiers in Iraq," he said. "That's just the way it is."
Sterling is interested by current events in Iran. He said that, while the news media have not covered much of it, Iran made an impact in the war.
"It's interesting watching the current political situation in Iran because I'm thinking, 'But I know they were killing us — or at least trying to kill us,'" he said.
Another aspect of the war that Sterling thought went underreported was the large amount of materiel left in Iraq by the withdrawing U.S. troops. The Army left the supplies because it was cheaper than shipping everything back to the States.
"They threw away a lot of stuff," Sterling said. "And by a lot of stuff, I mean a lot of taxpayers' dollars."
He and other soldiers often saw expensive equipment thrown in dumpsters, but they were not allowed to take those items.
The historical impact of being among the last soldiers to fight in the war in Iraq was not lost on Sterling. History surrounded him on base, and he got the chance to visit historical sites that were more than 4,000 years old. His base was near the ancient city of Ur, where Abraham came from in the book of Genesis, Sterling said.
"The Ziggurat of Ur was up on the hill that we could see every day," he said. "That was really cool, too, to look and see where Abraham left … To be able to see that and walk where Abraham probably walked was really cool."
When Sterling left Iraq, his unit was flown out on UH-60 Black Hawk helicopters. They passed over bombed-out Iraqi tanks left over from the first Gulf War.
"I guess I was probably three or four during the first Gulf War, so for me to be able to fly over that area and look at that at the end of a second war over there — it was really cool," he said. "We had two first Gulf War vets flying in our choppers with us, so that was kind of neat to have guys that were there with us."