SSgt. Nahum O'Brien: The cable guy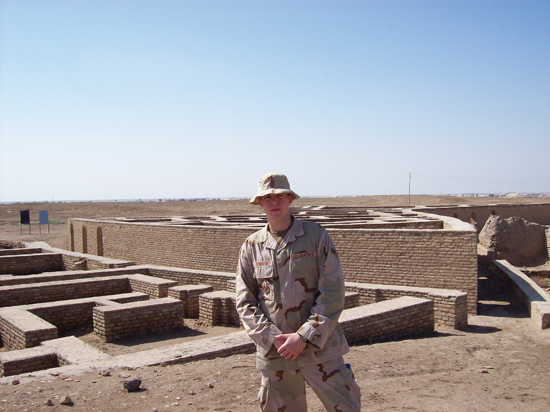 Liberty student served as Air Force satellite/telemetry technician in Iraq
Liberty University student SSgt. Nahum O'Brien wanted to join "the greatest Air Force in the world" when he enlisted in 2003 in response to Sept. 11, 2001.
The Wheelersburg, Ohio, native was a satellite/telemetry technician with the 31st Combat Communications Squadron, stationed at Tinker Air Force Base in Oklahoma City, Okla. He deployed to Ali Air Base near Nasiriyah, Iraq, in 2007 — the same air base from which the last American troops recently left.
While in Iraq, O'Brien was part of the 407th Expeditionary Communications Squadron within the 332d Air Expeditionary Wing (AEW).
"The 332d AEW are the successors of the famous 332d Fighter Group during World War II — the Tuskegee Airmen," he said. "It was neat to be connected to a piece of history and be able to serve in a prestigious unit."
As a communications technician, O'Brien and others in his unit performed numerous tasks ranging from securing communication signals for unmanned aircraft, like MQ-1 Predator drones, to ensuring that officers had working cable TVs.
"Tasks that were common for me to do were climbing communication towers to service LOS (Line of Sight) radio receivers called the TSSR," O'Brien said. "These receivers would provide communications between our main base and the smaller bases around the area."
One day, he received an urgent work order from an Army commander to be completed first thing in the morning. O'Brien rushed over and was informed that the officer's TV was not working.
"I looked at the TV and immediately noticed that the power cord was hanging down the wall, not plugged in," O'Brien said. "I said, 'Sir, this is one of those TVs that requires power to work.' We all had a good laugh."
O'Brien returned from Iraq and left the Air Force a year later in 2009. He enrolled at Liberty with a double major in missionary aviation and biblical studies.
"I chose aviation because the one thing the Air Force will give you is a desire to fly," O'Brien said. "I feel privileged that God has given me the opportunity to do so."
He chose biblical studies because he felt it was wrong that many Christians know more about their temporary career than they do about eternal scripture.
"I wanted to know the Bible just as well — if not more so — as I know my career," O'Brien said. "It is my intention to attend the Liberty Baptist Theological Seminary upon completing my undergraduate. My goal, if it be the Lord's will, is to rejoin the military as a Chaplain."
In all, O'Brien is glad to be a student at Liberty.
"I am very thankful for the support we veterans receive from Liberty University," he said.