Small change makes big impact: Baby bottle campaign returns to campus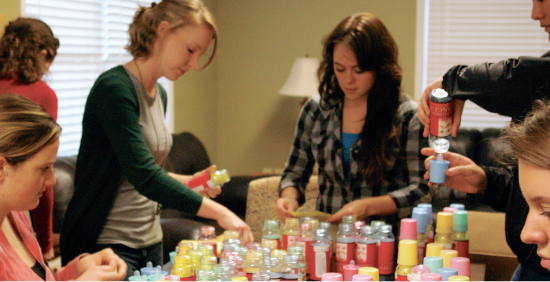 Start flipping those couch cushions and digging through the floorboards of your car to find spare change for the Baby Bottle Campaign, which kicked off Oct. 12.
The Baby Bottle Campaign is an annual campus wide fundraiser hosted by the Liberty Godparent Home. During the campaign, Liberty students and faculty are given baby bottles to fill with change, bills or checks. The money raised during the course of the campaign goes to help support the ministry of the Liberty Godparent Home.
This is Liberty's eighth year participating in the Baby Bottle Campaign. This year's Baby Bottle Campaign will run until Wednesday, Nov. 2, when students will return their bottles to Convocation. The boy and girl hall that raise the most money will each win a pizza party.
The Liberty Godparent Home is a safe haven for females from the ages of 12 to 23 who, while pregnant, are able to stay with other women facing the same situation. During the course of their time in the Godparent Home, the women take classes such as parenting, life skills, nutrition and Lamaze. They also participate in counseling sessions and receive encouragement. Each resident is also faced with perhaps the hardest decision of their young lives — to become a parent or choose an adoption plan.
"All aspects of our program are designed to share God's unconditional love while providing support for building a parenting or adoption plan," Kris Richard, Liberty Godparent Foundation Director of Operations, said.
The Godparent Home is also a ministry that strongly advocates a pro-life stance.
"I think that the best and most effective way to protest abortion is by being involved in this ministry and ministries like it and being active in their success. If we say we are pro-life, what are we doing about it? This ministry gives girls another option," Godparent Home intern Chesli Hutson said.
Last year, Liberty students were able to raise over $12,000 in support for the Godparent Home. Richard is optimistic about this year's success and students increasing involvement in the campaign.
"The Liberty Godparent Ministries are so grateful for the help of the Liberty students," Richard said.
All money raised during the course of this campaign goes to supporting the Godparent Home, where additional money means additional opportunity for the young women currently involved in the program. The Godparent Home can house 12 girls, averaging about five to six girls at any given time.
"This is a ministry that literally saves lives and changes lives. Any money raised for the ministry directly benefits a mother-to-be and her child. That is so special and it's what makes this a worthy cause," Hutson said. "And remember, your change can change lives."
The Liberty Godparent Ministry is involved in numerous events over the course of the semester. For additional information or how to donate, call 1-800-542-4453. Information on the Godparent Home is also available on Facebook.