From the desk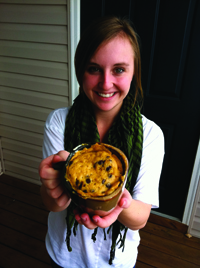 I love fall.
Fall at the Champion office is comprised of hectic schedules, hurried emails, political banter, athletics, cupcakes and hot coffee. So, like my scattered profession, this article is going to cover two things which many would never mix but I find certainly fitting under the context of fall. Think of this as a box of chocolates — there's a little something for everyone.
Our first order of business: politics.
With redistricting drama gnawing at our heels, it seems that no one really knows what exactly is going on. We could sit and argue the unfair treatment of Liberty University, or we could explain in detail the reasoning — even if it is seemingly flawed — behind the delay in the process, which will hinder students from voting closer to home.
"Early in the redistricting process City Council unanimously agreed to support the creation of a new voting precinct and polling place for Liberty University voters," Lynchburg's City Attorney Walter Erwin said in his response to the Chancellor regarding the time lapse in decision.
Where has the drama come from? Miscommunication. According to Erwin, everything is proceeding as it was always intended. The accurate timeline simply was not communicated to administration or the students.
So, maybe it is my growling stomach or my unwillingness to argue something that can't be won, but it seems that a polling place will eventually be granted to Liberty students — just not on our time.
Therefore, we can now move on to my second order of business — something every college student can appreciate: pumpkin.
As I was trapped between precinct changes and political nonsense, I stumbled upon something that successfully brightened my day: mug cakes.
Although I live off campus, sometimes baking something warm and delicious doesn't always fit into my busy schedule. Something fast and easy is always a plus.
Because fall is so synonymous with pumpkin, I put a spin on the classic mug cake to create a heavenly autumn oasis.
On campus students, this is for you too. All you need is a microwave and a few simple ingredients:
• 1 coffee cup
• 1 egg
• 3-3 1/2 tablespoons brown sugar
• 1-2 tablespoons pumpkin puree
• 1 tablespoon butter
• 1/3 cup flour
• 2 teaspoons cream cheese
• handful of chocolate chips
Mix all of the ingredients together in the coffee mug and microwave for 2 minutes or until mixture maintains a cake-like consistency. Top with ice cream if you are feeling extra brave and say hello to fall in a cup.
So, with my mug cake in hand, I can say my favorite season has arrived — bring on the politics and pumpkin.