One man's trash is another man's CSER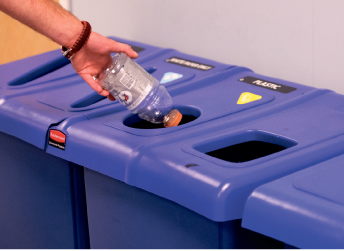 Liberty staff member proposes new recycling program to make halls cleaner and greener
After James Honeycutt, senior supervisor of the male dorm cleaning crews, noticed the large piles of recycling building up in the residence halls, he decided to take action by proposing that Liberty University students be given the chance to gain Christian Service (CSER) credit by participating in a trial run of a campus-wide attempt to increase recycling in the dorms.
A program for recycling was created by several students and Liberty staff, and each hall was provided with blue bins for the students' recyclable materials, such as plastic bottles and cardboard.
However, since those students have graduated and moved away, the responsibility for the recycling has fallen on the shoulders of the halls' already busy Resident Assistants (RAs).
"I have observed that the bins are not typically emptied, resulting in them flowing over and taking up hall space," Honeycutt said in his proposal. "Fairly quickly, the hall residents start putting regular trash into the recycling bin area."
The Office of Student Leadership and the CSER Office have joined forces with Honeycutt to counteract this problem. Students will receive CSER hours for volunteering to monitor and clean up the recycling area on their halls.
A handout has the details regarding this opportunity, giving students a better understanding of what they are committing to and what will be involved in the process.
According to the handout, the student's responsibilities will include throwing away any trash and taking any plastic, paper or cardboard to one of the on-campus recycling centers on Mondays, Wednesdays and Fridays. This will take approximately 20 minutes a day.
On Tuesdays and Thursdays, the student will check the recycling bins to make sure they are not full and sort through the contents. This will be counted as a "five minute day." Students will be required to keep a log of the time spent to gain CSER credit.
The handout also states that an RA, facilities worker or the CSER supervisor can approve the times if work done meets the standards set by the office.
So far, 11 students have already signed up for the position of Dorm Hall Conservation Advocate.
"I heard about this opportunity to take care of our hall's recyclables through my RAs at hall meeting a couple weeks ago," sophomore Taylor Shaffer said. "I was immediately interested because it was a CSER that would easily fit into my crazy nursing schedule and, for the most part, I'm able to do the job on my own time."
Honeycutt is looking forward to seeing the residence halls becoming a cleaner, more enjoyable environment through this new concept.
"This step with dorm recycling is a step in a better direction for the hall, the school and the environment," Honeycutt said.
For more information, contact Honeycutt at jlhoneycutt2@liberty.edu.