Jessica Miller Swain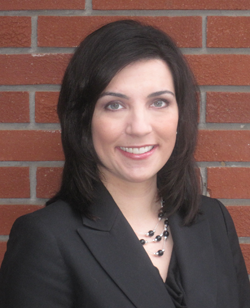 The feature editor on The Champion staff showed signs of being a promising newspaper editor, but God had different plans for her.
"God tends to work like that, tends to challenge us, I think, by bringing along new opportunities and changing things up when you least expect it," Jessica Miller Swain (2000) said.
After graduating from Liberty University with a degree in journalism, Jessica moved up to become a marketing leader for the one of the world's largest professional services firms. She said while her current role of six years is not that of a typical journalist, it does involve plenty of writing.
Jessica is the geography marketing leader at PricewaterhouseCoopers (PwC) for the Greater Atlanta market, which consists of Alabama, Georgia and Tennessee.
PwC is a global "Big Four" professional services firm which offers accounting, tax and consulting services to businesses. Swain leads a team of three people in developing marketing and communications strategies to help ensure the Greater Atlanta market knows about PwC and the company's services. Her team also leads the public relations, corporate responsibility and alumni relations strategies for the market.
"Our team's ultimate goals are building brand awareness, enhancing the firm's profile and helping our partners and staff develop deeper client relationships that will help us grow business," Jessica said.
Jessica said she uses many of the skills she learned while working as the feature editor for the Champion and editor of the Selah yearbook while at Liberty.
Some of those skills include knowing how to ask the right questions to open up dialogue, how to "gracefully accept criticism," and how to multi-task and "keep a lot of balls in the air."
Her background outside of work was shaped from an early age. Jessica and her younger brother were saved on the same day. Her family had many ways of encouraging faith and service like spending holidays working in kitchens to serve meals to the poor. She later chose Liberty because it offered a well-rounded learning experience − academically, spiritually and socially.
After graduating from Liberty in 2000, Jessica moved back to her hometown of Marietta, Ga., just outside of Atlanta. There she began working at the copy desk of a local newspaper called the Marietta Daily Journal (MDJ).
"I was there when the whole hanging chad scenario with George Bush and Al Gore occurred in Florida," Jessica said. "I remember being on shift the night that the election results were coming in."
Jessica said the stressful environment at her local newspaper was very similar to what she experienced at the Champion.
After moving on from the MDJ, Jessica then became the associate editor and later the managing editor for a magazine called National Real Estate Investor. The business-to-business magazine dealt with commercial real estate. While working at the National Real Estate Investor, Jessica helped redesign the magazine's web site, winning the "Best Magazine Web Site" award in 2001 and 2004 from the Magazine Association of Georgia.
Although her workload at PwC is heavy, Jessica finds time to travel with her husband.
She has been to the Caribbean, Italy, England, Switzerland and Amsterdam. One of her favorite trips was to Paris, where Kevin proposed to her.
"Spring was just starting, so the trees were starting to bud, and the willows over the river were just starting to flower. It was just so pretty," Jessica said.
Jessica and Kevin have been married since the spring of 2009.
Although they do not have children yet, the couple has two dogs who "think they are children" and a cat.
In her small amount of free time, Jessica enjoys reading historical fiction, working on home renovations with her husband and baking a variety of treats, such as chocolate chip pound cake, cookies and birthday cakes for her family and friends.