Phantom of the Opera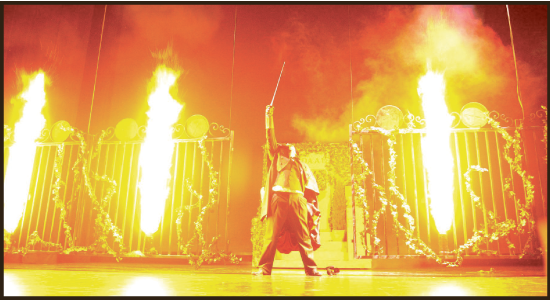 Those who have not seen the Liberty Department of Theatre Arts (DTA) performance of "The Phantom of the Opera" should prepare themselves for an extravagant display of sight, sound and skill by the cast and technical crew. After preparing and advertising months in advance, the show sold out 17 performances.
"The Phantom of the Opera" opened Friday, April 8 for eager throngs of students, community members, families and even tour buses full of fans that traveled from out of state to witness the largest production produced in the new Tower Theater, according to director Linda Nell Cooper. The show stars Davis Mercer as the Phantom, Rachel Day as Christine and Caleb Hughes as Christine's fiance Raoul.
Costume assistant T.C. Williams has worked in the Theatre Arts costume shop since July, and is also the wardrobe manager for "The Phantom of the Opera," which makes it his responsibility to oversee the actor's costume changes during the performance.
"'The Phantom of the Opera' has been the biggest challenge compared to other productions, mainly because of the number of costumes that we're renting, which is roughly 210," Williams said. "I and the three other people who work in the costume shop have been working on special pieces for the show, which is wonderful because this allows us to make the show our own."
According to Williams, the DTA has worked to give the production a unique "Liberty Theatre" style, as opposed to following the traditional Broadway format.
"This weekend was a great opening weekend," Cooper said. "Our best performance was actually the Sunday matinee. Normally by that time, the students are tired from practicing and performing all week. But this time, the cast had a solid performance."
Cooper said that all performances are sold out, but people still looking for tickets can visit the Tower Theater box office roughly 30 minutes before a performance starts, to see if there are any cancellations for reserved tickets. For more information about the play or the Department of Theatre Arts, visit the website at liberty.edu/theatre.