Downtown soul: Jimmy's On The James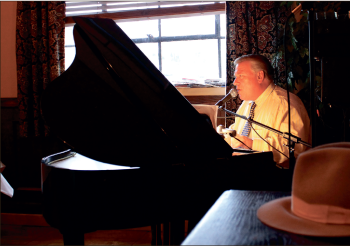 The room was full of attentive listeners as Jim Dudley sat down to the piano late Thursday evening. Dudley makes a regular appearance behind the microphone and piano in Jimmy's On The James, a southern American bistro.
Jimmy's On The James, named after owner, Jim Dudley, is an upscale restaurant downtown on Commerce Street. The nightly live music and fresh food is what keeps Lynchburg coming back for more.
Although they have only been open since Oct. 1, 2010, Jimmy's On The James is packed out every weekend, according to Dudley. Reservations are required on the weekends and are recommended during the week.
"We (Jimmy's On The James) fill up our reservations a day or two before the weekend and sometimes even before that," said Bob Rygeilski, manager at Jimmy's On The James.
Jimmy's seats only 50, and the menu features various American meat and seafood dishes, and is open Tuesday through Saturday from 5 p.m. until they close.
"Business influences closing time. We never close early and 90 percent of the time we stay open until 2 a.m.," Rygeilski said.
The music at Jimmy's is live every night with local talent, which includes pianists, saxophonists and singers, as well as their in-house talent, Jim Dudley. According to Dudley, many customers have compared him to "Ol' Blue Eyes," Frank Sinatra.
Rygeilski described the music at Jimmy's to be "American songbook" with jazz.
Jimmy's typically serves customers ages 16 to 80.
"Everybody loves it, which makes for an eclectic clientele," Rygeilski said.
Dudley had previously owned Southern Culture, a restaurant in Richmond, Va., in the 1990s. He sold the restaurant and moved to Florida to pursue his passion in acting and singing. Dudley moved back to Lynchburg to be closer to his parents.
Jimmy's On The James remains active in the community and has given to several charitable causes in Lynchburg, including the Jubilee Family Development Center and the Academy of Fine Arts.
For more information, visit jimmysonthejames.com.