Downhere returns to Liberty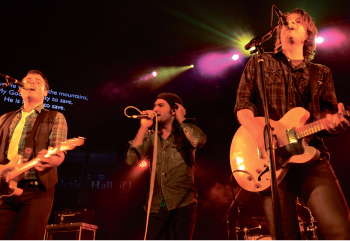 Students and visitors packed into the Vines Center Friday night for an evening of rock and worship with bands downhere and Rush of Fools. Rush of Fools opened the evening with their signature contemporary Christian style, warming up the crowd for the headlining act, the Juno-award winning Canadian band downhere.
"People often ask if we chose our name because we moved down from Canada, which is totally not the case, or that we're equated with Australia, and that's not it either," co-founder Jason Germain said. "When Jesus was down here, he came as a servant, he was interested in the person who was right in front of him. He wasn't interested in popularity games."
Germain and lead vocalist, Marc Martel, met in their freshman year at Briercrest Bible College in Saskatchewan. Germain and Martel wrote music together and spent their first official shows performing worship music in nursing homes, according to Germain. They eventually added bassist Glenn Lavender and drummer Jeremy Thiessen, completing their band.
The band was named after a song Martel wrote in memory of a friend from college who died in a tragic accident.
"Shortly after his memorial service, Mark sat down at the piano and wrote a song called 'downhere.' The song basically expressed the question that we all wrestle with — 'Why do bad things happen to good people?'" German said.
Friday was downhere's second time performing at Liberty — its first concert was in January 2007. Despite travelling the world and changing thousands of lives, the band still holds on to the faith that brought them together.
"I feel very unqualified to have my voice on the airwaves, but at the end of the day, God is good, and he's given me a voice for a reason," Germain said. "Despite my failures, despite my incapabilities, somehow he still uses me. I think (God) can use anyone, no matter their giftedness or their brokenness."
For more information about downhere, visit their official website at downhere.com.