ALD honors future alumni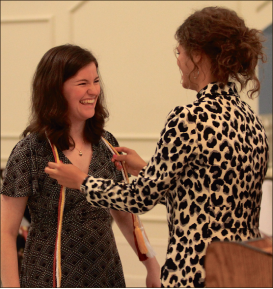 Piano melodies filled the air as students chatted around a chocolate fountain. Students decorated in suits and dresses looked around at their peers, friends and parents who had come to join them in a night to remember.
Liberty University's DeMoss Grand Lobby was filled Saturday, April 16 for an event commemorating the work of dedicated Alpha Lambda Delta (ALD) Honors Society students who will be graduating in a few weeks.
"This is our largest graduating group," ALD Administrative Adviser Bessie Grayson said. "This class, which was initiated their sophomore year, in 2008, totals 325 students."
The ALD Honors Society recognizes the academic achievements of students who attain a 3.5 GPA in their freshman year at Liberty and maintain it through the rest of their college career.
According to the Liberty University's ALD website, the ALD society's goal is "to encourage superior academic achievement among students in their first year in institutions of higher education, to promote intelligent living and a continued high standard of learning, and to assist men and women in recognizing and developing meaningful goals for their roles in society."
Although the ALD Honors Society is a national organization, the Liberty chapter has been in place at Liberty since 1985, according to Grayson, encouraging students in their academic success.
The honorary evening was to congratulate students on the completion of their studies and to applaud them for their hard work.
"It's been a wonderful evening," psychology professor and ALD advisor Dr. Marilyn Gadomski said. "It's nice to see beauty around us and beauty in the people as we honor them."
The evening began with an opening prayer from chapter president Andre Craig who reminded students that "no matter what happens, the Lord will be with you wherever you go."
After a three course meal catered by Sodexo Catering Services, students were addressed by guest speaker Dr. Brenda Ayres, professor and assistant director for the Department of English and Modern Languages.
"This is your time to be honored," Ayres said as she spoke directly to the graduating class. "You have aspired to superior academic achievement."
Although she acknowledged the great feats accomplished by the graduating group, Ayres also reminded them of the greater feat conquered by Jesus who devised sin for us on the cross.
"Christ said, 'It is finished,' on the cross for you," Ayres said.
The honor cords, whose red, yellow and white braids had lined the front table, were then placed around the collars of recipients who will later place them on their graduation gowns.
Gadomski then awarded ALD members Jessica Young and Kaleigh Rank with the Jo Anne J. Trow Award, a scholarship award for students who have contributed greatly to their ALD chapter, maintained a high GPA and completed the application to be nominated for the award. These students will then compete at the national level for an additional ALD scholarship.
"I'm very excited," junior Jessica Young said. "I think it would be great for Liberty to be recognized at the National level and to receive a scholarship would be pretty great."
The Marie Leonard Senior Book Award which is given to the student who has the highest GPA in the graduating class, was awarded to nine recipients. As stated by the National ALD, any tie results in the donation of a book to the institution's library.
The recipients posed for a picture with the book "Life's The Classic Collection" which will be placed in Liberty's A. Pierre Guillerman Library with the honored recipients names printed inside the front cover.
"I feel really honored," recipient Emily Boyter said. "It is really neat to get to the end of the four years and have all of the hard work count for something."
Although the night's events focused on individual successes, the members were quick to discuss the community service the group does through fundraising and outreach.
"Just last night we had an event at the Jubilee Center in Lynchburg," sophomore Emily Bass said. "We usually go and have a little party with the children there and share God's love with them."
Bass then noted that a little girl gave her life to Christ last night as a result of their event.
"We've just had a really good time serving the community," Bass said.
The group has also created Thanksgiving baskets to give to families around the Lynchburg area, written and delivered Christmas cards to the military and, most recently, held a teddy bear drive to give stuffed animals to the children going through treatments at the Virginia Baptist Hospital Children's Ward.
To find out more about the ALD Honors Society search "Alpha Lambda Delta" in the search bar at liberty.edu or follow the links through Liberty's CASAS page.