An Xtreme Impact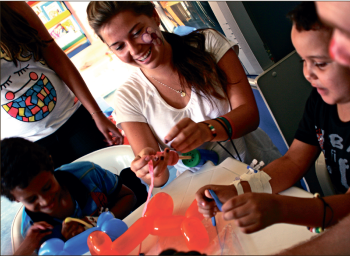 Changing the world one high schooler at a time
Xtreme Impact (XI) works to combine youth ministry and missions. This ministry is fully devoted to sending high school students from all over the country into other parts of the world on mission trips where they are able to impact lives regardless of their age.
XI is looking for two to four Liberty University students to serve as small group leaders on some of their mission trips taking place this summer July 9-30. Separate groups will be heading to the Bahamas, Costa Rica, Brazil, Italy, Uganda, India and Thailand to do various types of ministry such as children's ministry, teaching English, sports, prayer, preaching to locals, evangelism, drama, songs and a Bible club which is like a miniature vacation Bible school.
As a small group leader, it is the responsibility of the participant to attend regular meetings and keep contact with a small group of high school students who will be joining them on the mission trip. They prepare and disciple the group for ministry in that country.
Sophomore Jordan Swineford will be serving as a small group leader on the XI trip to Italy this summer. During her senior year of high school, she came to Liberty for College For A Weekend where she first heard about XI. Swineford decided to become a small group leader on a trip because of her interest in small groups, leading and investing in others.
"I don't think anyone would ever look back on their time as a small group leader and say, 'I really wish I wouldn't have invested into those people so much,'" Swineford said. "Overall, I think it is such an awesome way to serve others by being a small group leader, and you learn so much about yourself as an individual."
This will be Swineford's first time as a leader on an XI mission trip.
Liberty alumna Liz Lundberg served as a small group leader on a trip to Jamaica two summers ago. She said that she would tell future XI small group leaders to relax, be flexible and be sure to pray a lot because it is easy to get caught up in the responsibility of being a leader and lose sight of the purpose of the trip.
"Then you get there, and God shows you who is responsible for every little detail of the trip," Lundberg said. "It's not you keeping your team safe and on time with some man-made agenda — it's about allowing your team to be led by the Holy Spirit and letting God be in control."
The positions to be a small group leader are on a first come, first serve basis. Leaders are especially needed for the Uganda and Bahamas trips. If interested, visit xtremeimpact.com/ for more information.