Ghost of Christmas past visits Liberty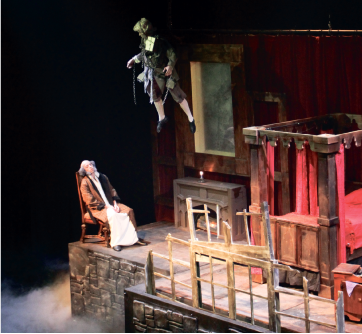 Snow fell, ghosts flew and townspeople danced and sang their way through the Liberty Theater Departments production of Charles Dickens's "A Christmas Carol."
The new Tower Theater's special capabilities faced a new challenge with the production, in which characters attached to harnesses "flew" through the air.
Assistant professor of theatre arts and play director Chris Nelson said that the production is staffed by 68 people, with two to three crew members needed to control each flying actor.
According to Nelson, the play's cast and crew had to come back to school early from Thanksgiving break to learn how to operate the equipment as well as have harnesses fitted and practice basic mid-air maneuvers. The group spent the Saturday and Sunday after Thanksgiving practicing for 12 to 16 hours with the new equipment.
"We had the company 'Flying by Foy" set up the flying equipment and teach our crew and students how to use it," Nelson said. "Some of the actors caught on to flying faster than others, but now they're all showboats. They love doing flips and gliding."
The play follows classic Christmas anti-hero Ebenezer Scrooge, played by senior Jonathan Crabtree, as he "bahs" and "humbugs" his way through the day, scaring away Christmas carolers and scolding his nephew Fred, played by Timmy Williamson who also narrates the play, for inviting him to celebrate Christmas with the family.
Scrooge also terrorizes his impoverished employee Bob Cratchit, who baffles Scrooge with his upbeat attitude towards Christmas, despite his harsh financial circumstances and sickly child. Scrooge goes home to his large, empty house and is preparing for bed when his old business associate Jacob Marley, dead for seven years, visits him. Marley's ghost warns Scrooge that he will be visited by three ghosts of Christmases past, present and future, who will attempt to show Scrooge the error of his miserly ways. Scrooge scoffs at Marley's warning, believing the vision to be an odd dream, until the ghost of Christmas past visits him and whisks him off to revisit happy and painful memories of his own from his early years.
The ghost of Christmas present allows Scrooge a glimpse into the lives and circumstances of the people around him, and the ghost of Christmas future completes the night with a warning to Scrooge by giving him a look into the dire future that awaits him if he refuses to change his ways.
Sigma Tau Delta and the Department of Theatre Arts are hosting a free lecture on Dec. 8 at 5:30 p.m. in the Tower Theater, with Nelson and Dr. Emily Heady speaking about the play. Tickets can be purchased at the Vines Center box office, or by calling 434-582-7328, or visiting the Liberty Theatre Arts website.