Prison ministry gives Bibles to inmates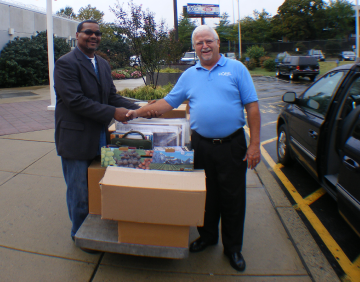 The middle aged man sat across the table. With his hands folded, he looked intently, recalling what had brought him to this point. "Today, because of this ministry that Garry brings, I've learned how to be obedient," he said.
Johnny Davis has served time in correctional institutions twice for drug-related charges. Now his life is changed because of Hope Aglow Ministries, an evangelical prison ministry designed to minister to and disciple inmates across the country.
The organization's executive director, Garry Sims, has been working with Davis since they met in 1997 during Davis' first stint in the correctional facility.
"He would come in and we would talk about the Lord," Davis said. "When I got out, I met with him and he was doing the same thing he was always doing — being obedient (to God's calling)."
To Davis, Sims and the Hope Aglow ministry offered him guidance, and taught him what it meant to have a relationship with God.
"He's helped me to strengthen my relationship with God," Davis said. "I know now to stay the course — that things may look a certain way but they might not actually be that way. No matter what, God is still in charge."
Hope Aglow Ministries is a local organization that works throughout the U.S., visiting inmates in prisons and jails as well as distributing bibles and doctrinal studies to those who request them.
"We (go out the prisons) on a daily basis," Sims said. "Almost every day of the week we are doing something."
This year, with the help of Thomas Road Baptist Church (TRBC), Hope Aglow Ministries' annual Bible donation program will now be taken to a larger scale.
"This is the first time we've ever done a national Bible drive," Sims said.
For years, Bible donation has been a contributing factor to the changed lives of people in prison, like Davis.
"I had read the Bible while in the system," Davis said.  "(At that point) I didn't have a relationship with God, but I desired to."
Davis said that Sims developed relationships with the inmates, encouraging them to keep in touch with him once they finished their time.
"We (as Christians) have a direct command to do jail or prison ministry," Sims said. "We have a direct command from Jesus to go into the whole world."
Sims and his staff do not take this biblical call lightly. He sees prison ministry as a perfect opportunity to tell others about Christ.
"The devil's done us a great favor," Sims said. "He's rounded up all the lost people and put them all in the same place. We know where they are at. We just need to go to them."
Sims has met many men in the prisons who desire to know God and do so through Hope Aglow's doctrinal booklets and bibles. It is for that reason that Hope Aglow has started this national Bible collection.
The Bibles given within the jails are poor in quality, explained Sims. They will only last a year if they are being well used.
"About 10 to 15 percent of them really get into the Bible study," Sims said. "We want to be able to provide them with Bibles that will last."
Everyone is encouraged to donate their extra, unused bibles to Hope Aglow so that they can distribute them to inmates.
"Providing a better Bible is getting more difficult because of the economy right now," Sims said.  "Every Christian has two or three Bibles sitting around their house that they aren't using."
Sims said that these Bibles, even those that have marking and notes in them, would be appreciated by those in prison.
"Inmates love a good, marked-up Bible, because it tells them someone thought that the (highlighted area) was important," Sims said.
Bibles are being accepted at the front foyer of TRBC until after Thanksgiving.
"I've learned through this journey that obedience is the key. (Hope Aglow) has helped to teach me how important it is to be obedient," Davis said. "Words cannot describe how my life has changed."
For more information about Hope Aglow Ministries and how you can donate, contact hopeaglow.com or call 434-258-2248.