Man loses 27 pounds with Twinkie-based diet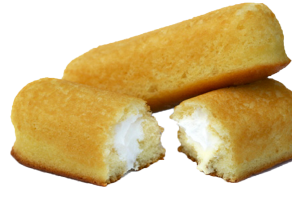 A nutrition professor at Kansas State University recently completed two months on the "Twinkie diet" and with surprising results: he lost 27 pounds and was generally healthier than he had been before the diet.
Over the course of 10 weeks, Mark Haub decided he would put this unusual diet to the test. Haub ate a Hostess or Little Debbie snack cake every three hours. He also supplemented most of his meals with a number of other snacks that are usually considered unhealthy.
Haub saw his testing of the diet as an experiment for his class. He went into the diet with the mindset that a successful weight loss was not so much about what you eat, but about how much you eat. He reduced his calorie intake from about 2,500 to 1,800, focusing on burning more calories than he ingested.
At the end of the 10 weeks, Haub was surprised by the Twinkie diet's effectiveness. He lost 27 pounds, but the increase in his overall well-being extended beyond that. His body fat dropped nearly 10 percent, his bad cholesterol dropped 20 percent, and his good cholesterol increased 20 percent.
The results have astounded nutritionists, including Haub.
"That is where the head scratching comes," Haub said, according to CNN. "What does that mean? Does that mean I am healthier? Or does it mean how we define health from a biology standpoint, that we are missing something?"
He went on to say that his general increase in health is a result of typical weight-loss, regardless of the diet or method in which the weight is lost. But a question still remains that was neither proven nor disproven during his diet. In fact, if anything, the results muddled the facts even further.
What is more important: the weight loss, or the dietary plan?
"When it comes to eating, it is definitely more important to watch how much you eat compared to what you eat," Dan Quartuccio, a sophomore health/physical education major, said.
"There is nothing wrong with eating snacks and junk food every now and then. The important thing is to make sure that you eat everything in moderation."
"In my opinion, it is how much you eat that is the most significant. The best tip on losing weight is not exercise, but eating healthy in moderation," Ryan Ponder, a senior also majoring in health and physical education, said. "Though eating a diet that is high in fat is not the healthiest way to diet, it has results to prove that it works. This seems reversed of what the 'quid pro quo' is for a normal diet. This high fats diet can work, as long as you try to eat in moderation."
Haub also came out of the Twinkie diet with the mindset that the weight loss and increase in his health was more important. In his mind, the important part of dieting continues to be how much you eat, rather than what you eat.
The only thing he is not entirely sure about is whether or not eating a Twinkie every three hours for two months is a diet he would recommend.
"I am not geared to say this is a good thing to do," Haub said to CNN. "I am stuck in the middle. I guess that is the frustrating part. I cannot give a concrete answer. There is not enough information to do that."